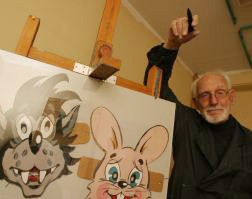 Rusalkov and his characters: Wolf and Hare
The Russian artist Svetozar Rusalkov, one of the two creators of the famous Russian cartoon series "Nu, Pogodi!" (English translation: Just you wait!), passed away on Tuesday at the age of 84.
Rusalkov began studying art when still a child. In World War II, he worked for the newspaper Red Star then went to fight at the front in Belarus and Ukraine, where he was wounded. After leaving the service in 1946, he studied at the Industrial Arts School in Kalinina and then the Russian State Institute of Cinematography.
From 1956 he worked for the Soyuzmultfilm studio in Moscow, where he made 50 children's films such as "Buratino's Adventure", "Shaiby, Shaiby" and "Prophets and Lessons". It was the golden age of Soviet cartoons.

Though Rusalkov claimed he only wanted to make art films, his work inevitably spoke of children.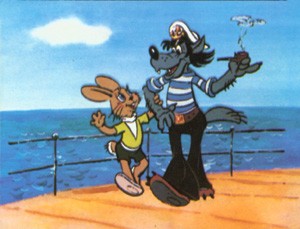 Wolf and Hare in the 7th episode: Sea Voyage
Between 1969 and 1986, "Nu, Pogodi!" was directed by Vyacheslav Kotyonochkin and produced at Soyuzmultfilm. Additional series were made in 1993 and 2005. There are 20 stories in all.
The two main characters are Wolf and the Hare. Wolf is initially portrayed as a hooligan: a heavy smoker who eagerly turns to vandalism and deliberately destroys museum exhibits, abuses minors and breaks the law generally, whereas the Hare is supposedly a positive hero.
Many of Wolf's attempts to catch the Hare are often characterized by uncanny abilities on his part like figure skating, ballet and waltzing that demonstrate his more refined side.
In a letter sent to Rusalkov on the artist's 80th birthday in 2002, Russian president Vladimir Putin wrote that Rusalkov had given delight to many generations and created a brilliant and cheerful world that beckoned the reader back time and time again.