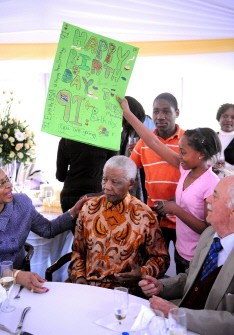 A picture taken on October 11, 2009 shows Zenani Mandela (R), a great grand child of Nelson Mandela (C), wishing him a happy birthday at his home in Soweto, outside Johannesburg. AFP photo
JOHANNESBURG, June 11, 2010 (AFP) - The president of world football governing body FIFA mourned the "unspeakably tragic" death of Nelson Mandela's great granddaughter in a car crash on the day of the World Cup kick-off Friday.
"I woke this morning to hear the unspeakably tragic news," Sepp Blatter said in a letter to the 91-year-old Nobel laureate.
"I am stunned as I sit here, I cannot understand it and I simply cannot find words to express my sadness," he said.
"It goes without saying that we fully understand that you cannot be with us at the opening ceremony and match later today. You will, however, be with us in spirit, for which we are incredibly grateful."
Thirteen-year-old Zenani Mandela was killed in a car that overturned in Johannesburg as it took her home from a spectacular eve of tournament concert in Soweto. South African police said the driver was drunk.