Fireworks touched off a blaze that engulfed a high-rise hotel in northeast China Thursday, state media said -- a similar incident to a deadly new year blaze at state television headquarters in 2009.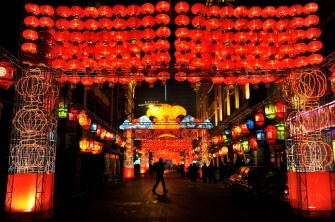 A pedestrian crosses a street under illuminated lanterns on the eve of the start of the Lunar New Year in Shanghai late on February 2, 2011.
The Xinhua news agency said no one was injured in the fire, which broke out shortly after midnight at the three-building Dynasty Wanxin complex in the city of Shenyang, just as China was ushering in the Year of the Rabbit.
The blaze, which erupted in Tower B, an apartment building, quickly spread to Tower A, which is largely taken up by a five-star hotel, the report said. Everyone at the site was evacuated and the fire was brought under control.
The third tower in the complex was not affected by the fire, Xinhua said.
A preliminary police investigation revealed the fire was sparked by fireworks, the report said, adding that the investigation was ongoing.
Letting off fireworks on Lunar New Year's Eve and throughout the festive period is a long-held Chinese tradition based on the belief that the noise will ward off evil spirits and ghosts.
But it is also a notoriously dangerous practice, and each year hundreds are reported hurt or killed in China in accidents.
In 2009, a Lunar New Year blaze sparked by an illegal fireworks display engulfed a luxury hotel being built inside the state TV headquarters complex in Beijing, killing a firefighter and causing a public relations mess for CCTV.
A former top television executive at CCTV, one of the Communist Party's chief propaganda arms, was jailed for seven years for his role in causing the blaze.
The hotel was just 200 metres (yards) from the futuristic CCTV tower that had quickly won fame as one of Beijing's most stunning buildings and a striking symbol of China's newfound global power.
Both buildings were designed by renowned Dutch architect Rem Koolhaas and had been due to open in 2009. The CCTV headquarters is still not in use.
In November last year, 58 people were killed when fire engulfed a high-rise apartment building in Shanghai. Thirteen people were arrested in connection with the blaze.
A preliminary investigation blamed the inferno in the 28-storey block on careless work by unlicensed welders who ignited nylon netting swathing the building, which was being renovated to improve energy efficiency.