Rescuers combed wrecked cars and homes for bodies on the French Riviera on Thursday after the worst floods in two centuries killed 25 people including a two-year-old, authorities said.
Authorities in the Var, a popular holiday region, raised the death toll to 25 on Thursday from an earlier count of 22 after the floodwaters engulfed streets in torrents of mud and drove people onto the roofs of their homes.
A two-year-old child died after falling into the flood water as a family scrambled to escape their home in Roquebrune-sur-Argens, authorities said.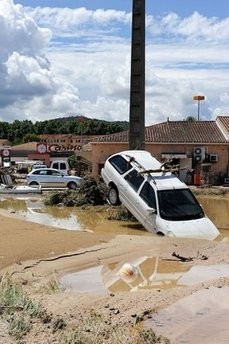 A damaged car, lifted in the mud, is seen near a supermarket in the French southeastern city of Le Muy.
Officials warned other bodies might be found as the search continued with rescuers digging through mud-filled cars and wreckage looking for 13 people still reported missing as helicopters circled overhead.
"There are still flooded places which have yet to be inspected, such as the campsites on the coast," said Laurent Robert, an official in the state prosecutor's office in Draguignan, the town worst hit with at least 12 dead.
Another source said a one-month-old baby was missing.
Scores of cars were piled on top of each other and holiday homes and camp sites in the region were devastated.
"Everything is ruined, unusable," said Edouard Gregoriou, who runs a restaurant and boating service in Roquebrune. "We have pedal-boats scattered for miles around, and mobile homes in trees."
The swollen Nartuby river which runs through Draguignan also hit the village of Trans-en-Provence where five other bodies were found.
Other victims were found in Luc, Roquebrune, Frejus, the Saint-Cassien lake and Saint-Aygulf, the regional prefecture said. The floods also badly hit the chic holiday resort of Saint Tropez.
The national weather office said they were the worst storms in the region since 1827. Interior Minister Brice Hortefeux called the downpours an "unprecedented catastrophe" for the region.
About 25,000 homes were still without electricity late Thursday, the ERDF utility said.
"The electricity is down. All the mobile homes have been overturned," said Regis Fardoux, director of a campsite near Frejus. "The season is finished."
Some 15,000 people were also unable to use their land phone and bottled water had to be shipped to some areas as the floods had made drinking water unsafe.
Helicopters on Wednesday rescued people trapped on roof tops and in cars. Emergency teams moved 436 inmates to nearby jails from a flooded prison in Draguignan where the water covered the first two floors.
At the resort of Frejus, more than 1,500 people were taken to safety, many in inflatable boats or by helicopter.
About 2,000 soldiers, firefighters and police were brought in to lead the rescue operation.
The SNCF rail company halted train services along the coast between Toulon and Nice until Friday morning and many smaller roads inland were blocked.
President Nicolas Sarkozy will visit the area early next week, his office said. He issued a statement expressing condolences for the victims' families.
Prime Minister Francois Fillon was to hold a meeting on the consequences of the deadly floods in Paris on Friday.
The deputy prefect for Draguignan, Corinne Orzechowski, said more than 30 centimetres (12 inches) of rain had fallen there since Tuesday.
Flooding also hit southwestern France, including the Atlantic resort of Saint-Jean-de-Luz and Bayonne, where a hospital was flooded.
The high flood toll has caused critics to lament the country's apparent lack of preparedness for natural disasters, after 53 people died in February in a major winter storm.
"Deaths can be avoided," Senator Alain Anziani said Thursday, speaking of the people found drowned in their cars. "We have problems passing on information and alerts."