WILMINGTON, Vermont, Aug 30, 2011 (AFP) - Thousands remained cut off by severe flooding in towns across Vermont, New Jersey and upstate New York on Wednesday as the death toll from Hurricane Irene climbed towards 50.
Emergency provisions had to be airlifted on Tuesday to dozens of communities stranded by floodwaters as torrential weekend rains dumped by the massive storm system washed away roads and sent rivers cascading over their banks.
President Barack Obama dispatched senior officials to survey some of the worst of the damage as rescuers ferried thousands of people -- including the elderly, small children and babies -- to safety in rubber motorboats.
Although the much-hyped direct-hit on New York failed to translate into major damage or casualties in America's most populous city, heavy rain in places like the Catskill Mountains proved a ticking disaster time-bomb.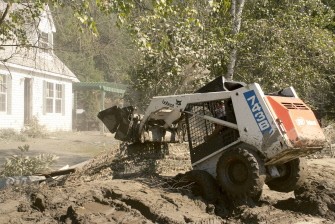 AFP - A compact tractor helps clean the side roads on August 30, 2011 in South Royalton, Vermont. Vermont is reeling from historic flooding in the wake of Tropical Storm Irene
Two days after the storm's passage, marooned families were still waiting anxiously for the national guard and firefighters to bring food and water to towns swamped by the floodwaters.
The main highway to Wilmington, Vermont was clogged with mud and Irene had turned other roads into deathtrap chasms after dumping two months worth of rain (8.3 inches, 21 centimeters) in less than a day.
"The problem is inaccessibility," emergency operations supervisor Dave Miller told AFP as teams struggled to pull trucks out of the sludge and remove fallen trees that had perilously dragged down power lines.
The drastic situation was mirrored in parts of New Jersey and upstate New York, where schools and community centers turned into makeshift Red Cross emergency shelters were nearing full capacity.
In Paterson, New Jersey, teams were rescuing and evacuating people non-stop under thankfully blue skies after the Passaic River crested 13 feet (four meters) above flood stage, its highest level since 1903.
"It's over 500 (people rescued) and the amount is climbing," police sergeant Alex Popov told CNN. "We are dealing with elderly people, families, small children, and pets."
New Jersey state lawmaker Scott Rumana, touring stricken areas with Governor Chris Christie on Tuesday, said it was "unquestionably the biggest flooding event in our lifetimes."
Millions of Americans remained without electricity, many farther south in states like Virginia and North Carolina, where Irene's winds were strongest as the storm barreled up the eastern seaboard on Saturday and Sunday.
Vermont, a mountainous state crisscrossed by numerous streams and rivers, saw several towns completely cut off by the floods and some smaller communities were reportedly wiped off the map.
"There are currently 13 communities that are unreachable by vehicle due to road damage," said a statement from Vermont Emergency Management.
"There are more than 200 roads that are still impassable statewide and all 500 road workers from the Agency of Transportation are on the street today working on repairs."
Dramatic television pictures from New Jersey, New York and Vermont showed flash floods sweeping through towns and vast oceans of water out in the country where rivers had burst their banks.
Homeland Security Secretary Janet Napolitano and Agriculture Secretary Tom Vilsack visited Virginia and North Carolina on Tuesday, while top disaster official Craig Fugate went to Burlington, Vermont.
"What I saw in North Carolina was really quite startling and quite significant in terms of agricultural damage," Vilsack told a conference call with journalists afterwards.
"Corn fields that were destroyed, cotton fields where cotton was now lying on the ground, damage to soya bean as well as tobacco fields in North Carolina as well as Virginia... significant damage to the tomato industry."
Research firms have estimated that Irene could cause up to $7 billion in damage, but that does not factor in the longer-term effect on farmers.
Officials reported at least 43 deaths across 11 states, including eight in New York, seven in New Jersey and six in North Carolina, where Irene made landfall Saturday with winds upwards of 85 miles (140 kilometers) an hour.
The hurricane was already responsible for at least five deaths in the Caribbean before it struck the United States, and is being blamed for a 49th fatality in Canada, where the storm finally petered out on Tuesday.
More trouble was on the way though as Tropical Storm Katia formed in the Atlantic, forecast to become a category 3 hurricane by Saturday or Sunday with winds topping 120 miles per hour.