Florida, Sept 10, 2010 (AFP) - A tiny Florida church Friday sought to quell a storm of protest saying its threatened Koran burning was cancelled, as President Barack Obama pleaded for religious tolerance.
"I want to be clear and confirm one hundred percent that there will not be Korans burning tomorrow (Saturday) at 6:00 pm as was planned," evangelical leader K.A. Paul told a press conference.
Paul has been huddled with Florida pastor Terry Jones this week to discuss Jones' on-again, off-again plans to mark Saturday's anniversary of the September 11 attacks by burning a pile of Korans.
Amid a storm of protest, Jones on Thursday said he was dropping the plans for the Koran burning ceremony, claiming Muslim leaders had agreed to move the site of the new mosque away from Ground Zero and to hold talks with him in New York on Saturday.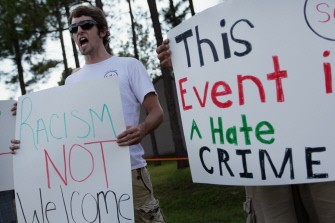 Jared Hamil joins a protest across the street from Dove World Outreach Center where Pastor Terry Jones had scheduled a Koran burning for Sep. 11 on September 10, 2010 in Gainesville, Florida. AFP
Paul told AFP Friday night that Jones was flying to New York.
"Pastor Jones is not in Gainesville anymore. He is flying to New York and I myself paid his ticket and reserved a room for him tonight in New York," he said.
But it was unclear whether the imam behind the project, Feisal Abdul Rauf, planned to meet with Jones. He has already denied any deal that would see the planned cultural center and mosque moved further away from the site of the World Trade Center destroyed in the 2001 attacks.
Rauf also failed Friday to meet a two-hour deadline set by Jones to confirm the pair would hold talks.
"At this time we have not heard from the imam," Jones told a press conference in Gainesville Friday afternoon.
"But we are still very, very hopeful that we will meet with him and we are still very convinced through the different channels that we have, that we at this time cannot mention, that this meeting will take place tomorrow."
Jones's incendiary plans triggered global outrage amid fears it would unleash a wave of Islamic violence targeting Western nations and troops serving in Iraq and Afghanistan.
It also came amid an angry debate in the United States over plans to build an Islamic cultural center close to the site of the World Trade Center destroyed in the 2001 attacks.
On the eve of the anniversary, Obama mounted a strident defense of American Muslims, paid tribute to those fighting in US armed forces, and said US citizens must remember who their true enemies were -- naming Al-Qaeda and "terrorists."
"We have to make sure that we don't start turning on each other," Obama told a White House news conference.
"We are one nation under God and we may call that God different names, but we remain one nation," he said, adding that Americans must remain clear about the identity of their true foes.
Obama has gone out of his way to defend the right of Muslims to build the mosque near Ground Zero, citing religious tolerance.
"If you could build a church on a site, you could build a synagogue on a site, if you could build a Hindu temple on a site, then you should be able to build a mosque on a site," he said Friday.
The threatened Koran burning and the controversy over the mosque site have conspired to mark a turbulent start to the festival of Eid al-Fitr, when Muslims worldwide mark the end of the Ramadan fasting month.
Leaders of mainly Muslim countries including Afghanistan and Indonesia have issued dire warnings against such a provocative act as Koran burning.
Thousands of rock-throwing Afghans assaulted a NATO military outpost as Afghan President Hamid Karzai said in an Eid message that burning the Islamic holy book would be "an insult to nations."
In neighboring Pakistan, hundreds rallied in the central city of Multan and the southern city of Karachi, torching US flags and calling for Jones to be hanged.
Protests also flared in Indonesia, the world's most populous Muslim-majority country.
"This threatens peace and international security. This is something that endangers harmony among religious people," President Susilo Bambang Yudhoyono said in a nationally televised address.
But Jones told MSNBC television earlier Friday that his church did not feel responsible for the wave of angry protests.
"We feel of course terrible... that is very, very tragic. We do not feel responsible for that. We feel what we have done, if anything, we have revealed how radical, how mean, how violent Islam is."