Iran's electoral watchdog has cleared four candidates including President Mahmoud Ahmadinejad to stand in the June 12 presidential election, the Mehr news agency reported.
The other three candidates approved by the Guardians Council are former prime minister Mir Hossein Mousavi, ex-parliament speaker Mehdi Karroubi and the former head of the Revolutionary Guards, Mohsen Rezai, the agency said.
A total of 475 Iranians had registered as prospective candidates for the June presidential election -- 433 men and 42 women according to electoral officials.
All had to be screened by Iran's powerful 12-member Guardians Council -- comprising six clerics selected by the supreme leader and six jurists proposed by the head of the judiciary -- which eventually only approved four.
Mousavi, who claims to be a "reformist who refers to the principles" of the 1979 Islamic revolution, is seen as the main opponent to Ahmadinejad who is facing severe criticism at home over economic policies viewed as inflationary.
Ex-parliament speaker Karroubi has promised to kick-start reforms in Iran but in a "moderate" way that he says will not trigger the wrath of his hardline opponents.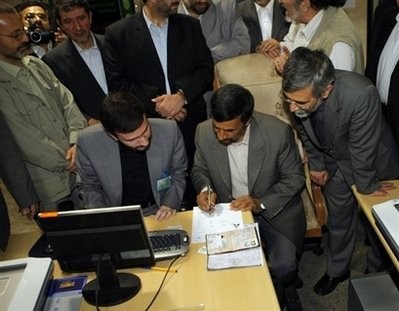 Iranian President Mahmoud Ahmadinejad (C) registers his candidacy for upcoming presidential elections.
Rezai, the former chief of Iran's powerful Revolutionary Guards Corps, too is critical of the policies adopted by Ahmadinejad and has promised to tackle poverty, high prices and unemployment.
In the 2005 presidential election won by Ahmadinejad, eight candidates of the 1,014 who registered were approved by the council, and eventually only seven stood.
According to the Iranian constitution, candidates should have a political and religious background, hold Iranian citizenship and believe in the principles of the Islamic republic and the official religion of the country.
The election campaign will run to June 10. The interior ministry has said results will be declared a day after the election.
Iranian officials have said that 46.2 million Iranians are eligible to vote.