Militants shot and killed four Muslims on Thursday in separate attacks across the restive Thai south, police said, amid fears of a spike in violence during the holy month of Ramadan.
A religious teacher, aged 39, was shot dead in a pre-dawn ambush on his home in Pattani province as he took a shower, while a married couple, also in their 30s, were killed on their way home from working in the rubber fields.
In neighbouring Yala province a 38-year-old male defence volunteer was killed in a drive-by shooting, police said.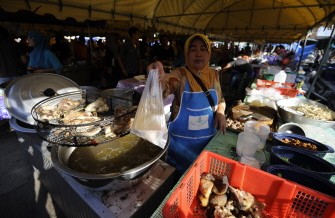 A Thai woman sells fish at a market in Thailand's restive southern province of Narathiwat on August 4, 2011.
Thailand
's army chief warned earlier this week that unrest was likely to flare in the region during the Muslim fasting month, as it has in previous years since shadowy rebels launched an uprising in early 2004.
Rights groups say the militants are rebelling against a long history of perceived discrimination against ethnic Malay Muslims in the deep south by governments in the Buddhist-majority nation.
However the militants keep a low profile and have not publicly stated their goals.
More than 4,700 people have been killed in the insurgency, according to the latest figures from Deep South Watch, which closely monitors the conflict.
Deep South Watch says more than half of the victims are Muslims, many apparently targeted because they are seen as traitors for cooperating with the local authorities.