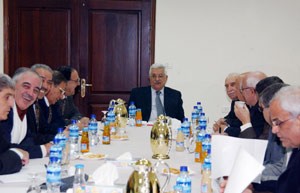 Palestinian President Mahmud Abbas meets with members of the Palestine Liberation Executive Committee in Ramallah, Dec. 17,2006
A fragile truce between rival Palestinian groups was holding Monday after a day of deadly factional violence following president Mahmud Abbas's controversial call for early elections.
Amid the tenuous calm, British Prime Minister Tony Blair was due to hold talks with Abbas and Israeli Prime Minister Ehud Olmert on the latest leg of a regional tour aimed in part at reviving the dormant Middle East peace process.
Despite the accord between Abbas's Fatah party and the ruling Hamas -- which has rejected the election call as a coup -- exchanges of automatic gunfire continued late into the night in Gaza City.
Four people have been killed and dozens wounded in the impoverished territory since Abbas called for holding early presidential and parliamentary elections on Saturday.
Hamas, which has been in power only since March after a shock election win over Fatah, has slammed the move as unconstitutional and tantamount to a call for civil war.
After a day of running gunbattles on the Gaza streets and tit-for-tat attacks that killed three people on Sunday, the two groups agreed to a truce.
But the ceasefire got of to an inauspicious start when Fatah boycotted a news conference with Hamas called to announce the truce, alleging violations.
Abbas's call for early elections has set off fears that the bitter power struggle between Hamas and the president's own Fatah faction could ignite a full-blown civil war.
Months of fruitless talks on forming a unity government failed over the Islamists' refusal to bend to Western demands that it renounce violence, recognize Israel and accept past peace deals, and over allocation of key ministerial posts.
Related Article:
Tension Grips Palestinian Territories after Vote Call