French President Nicolas Sarkozy has asked Mexican President Felipe Calderon to help in efforts to free 45 hostages held by Colombian rebels, Mexican Foreign Minister Patricia Espinosa said in Buenos Aires according to local media.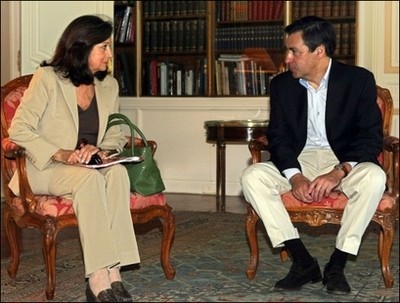 French Prime Minister François Fillon (R) meets with Yolanda Pulecio mother of Colombian hostage Ingrid Betancourt in Buenos Aires, December 9, 2007 (Photo: AFP)
"We've received a letter from President Sarkozy to President Calderon asking for help (in the) humanitarian" mediation efforts, Espinosa told journalists in the Argentine capital, as reported by Mexico City's Reforma newspaper on its website.

Espinosa and numerous other heads of state and foreign dignitaries were in Buenos Aires Monday for the inauguration of Argentina's new President Cristina Kirchner, wife of now former president Nestor Kirchner.

Sarkozy earlier this month agreed to mediate in Colombia's efforts to secure the release of 45 prominent hostages, including French-Colombian politician Ingrid Betancourt -- whose fate greatly interests France.

Espinosa said Mexico had consulted Uribe about Sarkozy's request, which she said Mexico was willing to take up.

"At this point, we're willing to make any effort the Colombian government requests," she said, adding that Bogota and Mexico were in "permanent contact" over the matter.

The Marxist rebels want 500 of their members to be freed from prison in return for the hostages' release.