France began beefing up security across the country Tuesday after an unknown group placed dynamite in a Paris department store and threatened more attacks if French troops were not pulled out of Afghanistan.
Police located and made safe the five sticks of dynamite placed in a washroom in the giant Printemps store on Boulevard Haussmann, one of Europe's busiest shopping streets.
The boulevard was cordoned off for several hours while hordes of Christmas shoppers and tourists were evacuated.
A group calling itself the Afghan Revolutionary Front sent a letter to AFP warning of "several bombs" in the upscale store and demanding that France withdraw its 2,600 troops by the end of February.
Interior Minister Michele Alliot-Marie said police reinforcements would be deployed in Paris and major French cities following the discovery of the dynamite.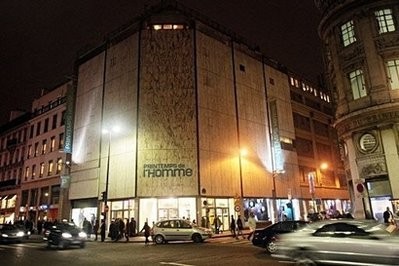 A general view shows the building hosting the Printemps Homme, one of the Printemps Haussman department stores, in Paris
"I have decided to reinforce security arrangements in Paris and major provincial cities," she told the French Senate, announcing a meeting of police, intelligence and transport chiefs on Wednesday in Paris.
"It is our role to be constantly vigilant, whatever the circumstances," she added later.
Prime Minister Francois Fillon, meanwhile, told journalists there was a "strong terrorist threat to France".
Executives from Printemps Haussmann, which has 2,000 employees and gets about 100,000 customers a day, were due to take part in the midday meeting in Paris along with other store heads.
The dynamite was not attached to a detonator and posed little danger, the minister said.
The letter, which AFP passed on to police, linked the warning to the French deployment in Afghanistan, where NATO and US forces are battling Taliban insurgents alongside government forces.
"Send the message to your president that he must withdraw his troops from our country before the end of February 2009 or else we will take action in your capitalist department stores and this time, without warning," it said.
President Nicolas Sarkozy, in Strasbourg to address the European Parliament, called for vigilance and firmness in the battle against terrorism.
"Vigilance against terrorism is the only possible policy; vigilance because unfortunately anything can happen, and firmness because you cannot compromise with terrorism," he told reporters.
The postmark on the threatening letter showed was sent on Monday in northeastern Paris and arrived at AFP before 9:00 am (0800 GMT) on Tuesday.
A French former anti-terrorist judge, who viewed the text, told AFP that the language was not of the kind normally used by Islamist militants, in particular because there were no religious references of any sort.
The judge spoke on condition of anonymity.
French police arrested seven alleged Islamist radicals in Paris on Tuesday, but officials stressed this was not linked to the explosives find.
Shopper Marie-Christine Soulard said she was told that a suspect package had been found in the store after she brought in a Giorgio Armani dress for alterations and that she had to leave immediately.
"There was no panic. It all took place calmly. But I don't know when I will be able to get my dress back," she said.
Lightly-dressed store clerks and sales personnel were rushed out of the multi-storey store and left standing in the biting December cold.
Staff and shoppers said the evacuation was largely carried out calmly, but one witness said there was a brief panic in Printemps' menswear section where some clients attempted to run down ascending escalators.
The store reopened in the afternoon.
Last week, an AFP journalist received a warning from an anonymous caller that a bomb would go off at Printemps, prompting police to order an evacuation for what then proved a false alarm.
In November, an Afghan Taliban leader had warned in a video broadcast on an Arab satellite network of attacks in Paris unless France withdrew its soldiers.
The last major militant attacks on French soil were in 1995 and 1996, when eight people were killed and some 200 injured in a wave of strikes on the Paris metro and tourist sites by Algerian Islamists.
Boulevard Haussmann was also targeted in 1985 and 1986 during attacks on Paris department stores, many of them claimed by Lebanese Hezbollah militants, which left 13 dead and 303 injured.
Printemps and its next-door rival Galeries Lafayette were rocked by successive bomb attacks on December 7, 1985 that injured 43 people.
Sarkozy decided this year to add hundreds of troops to the French contingent serving battling the Taliban in Afghanistan. France's force is now one of the largest there, after the United States, Britain, Canada and Germany.