Foreign Minister Bernard Kouchner put a positive spin on French ties with India on Monday ahead of a visit next month by President Nicolas Sarkozy but admitted no deals would be signed.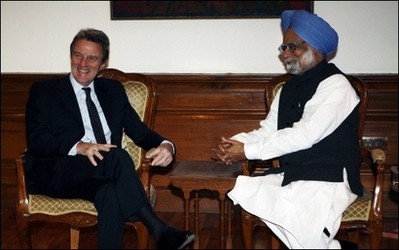 French Foreign Minister Bernard Kouchner (L) talks with Indian Prime Minister Manmohan Singh during a meeting at Singh's residence in New Delhi, on December 21(Photo: AFP)
"After these four days, I feel that we are very close to each other. You will see that my president will precise a lot of common ground," he told reporters in English.

"We have a lot to achieve together," Kouchner said.

The minister was referring to French hopes of signing a civilian nuclear power deal with India as well as cooperation on defense, transport, climate change and culture.

But asked if Sarkozy would sign any agreements, Kouchner replied, "this is impossible."

"Unfortunately, we wanted to sign an agreement on helicopters ..."

New Delhi cancelled on December 6 a 600-million-dollar deal for Eurocopter, a unit of European space giant EADS, to supply 197 helicopters to India.

Defense sources said Europter used a local go-between despite an Indian ban on middlemen in defense deals. India is to float a new tender and Eurocopter plans to bid again.

"We have a lot of common goals and common problems, from submarines to fighters," Kouchner said.

An Indian court last week ordered police to complete a probe into charges that a bribe was paid in a 2.4 billion euro (three billion dollar) deal to buy Franco-Spanish Scorpene submarines.

The Paris government denied the allegations.

India and France would set up a commission on defense issues before Sarkozy's scheduled visit on January 24, Kouchner said.

Paris is also hoping to sign a nuclear deal with New Delhi as soon as India strikes an agreement with the UN's atomic watchdog.

That would clear the way to implement an India-US pact ending three decades of sanctions on nuclear trade with India imposed after New Delhi tested atomic weapons.

Both sides were also working to open an Indian cultural centre in Paris, Kouchner added.