France will be discreet in its efforts to secure the release of French-Colombian Ingrid Betancourt and 45 other hostages held by Colombian rebels, Paris's ambassador to Bogota Jean-Michel Marlaud told reporters Monday.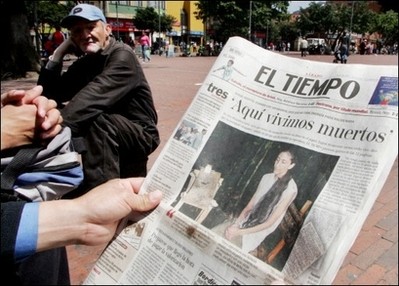 A man reads a newspaper showing a recently released picture of former presidential candidate Ingrid Betancourt 01 December 2007, in Bogota (Photo: AFP)
The envoy commented on French President Nicolas Sarkozy's vow on Friday to redouble its efforts to obtain Betancourt's freedom, after recently-seized videos of her and 15 other hostages were shown by Colombian authorities to prove they were alive.

"Within the French diplomatic tradition, we're more traditionally inclined to discretion," Marlaud told reporters adding: "We won't be talking much."

The ambassador did not say if France would be replacing Venezuelan President Hugo Chavez in mediating efforts for a prisoner swap deal between Bogota and the Revolutionary Armed Forces of Colombia (FARC), who wants 500 jailed rebels freed.

France has been deeply interested in Colombia's hostage crisis since Betancourt was kidnapped while campaigning for the Colombian presidency in 2002.

In the seized videos, Betancourt, 45, looked thin, depressed and apparently had one hand tied down. The other hostages, including three US nationals captured in 2003, appeared healthier. Colombia said the five videos could have been taped in October.

Ambassador Marlaud said he had sent a message to Betancourt telling her "not to lose hope."

In a further sign that France may now be mediating in the hostage crisis, President Uribe on Saturday told Sarkozy by telephone he was willing to explore with France new avenues to secure the hostages' release.

Sarkozy, who has taken a keen interest in the case of Betancourt, also said on Saturday that France would "redouble efforts to obtain her freedom."

"I have always said we will never forget Ingrid Betancourt. We know she is alive. Now we have to fight with all our might to free her from her ordeal," he said.

Also on Monday, US President George W. Bush telephoned Uribe to "convey support" for his efforts to gain the release of all FARC hostages, US national security spokesman Gordon Johndroe said in Washington.

"The president also thanked President Uribe for including the three Americans in his efforts," Johndroe added..

The Americans, US Defense Department contractors, were abducted in February 2003 after rebels shot down their plane during an anti-drug surveillance mission.