The international community cannot afford to lose the war against extremists in Afghanistan, French President Nicolas Sarkozy said Saturday on a quick visit to the insurgency-hit country.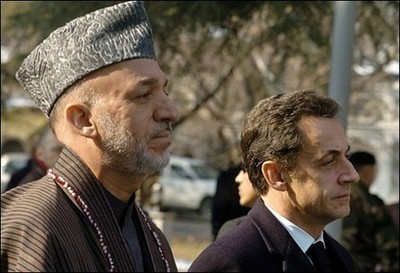 French President Nicolas Sarkozy (R) and Afghan President Hamid Karzai stand prior to a meeting at the Presidential Palace in Kabul. The international community cannot afford to lose the war against extremists in Afghanistan, Sarkozy said on a quick visit to the insurgency-hit country.(AFP/Shah Marai)
The various nations with troops here must be united and committed in their efforts to build Afghanistan so it can withstand insurgents linked with the Taliban and Al-Qaeda, Sarkozy told reporters travelling with him.
"It is absolutely necessary that Afghanistan does not become a state which falls in the hands of terrorists, as we saw with the Taliban," he said after talks with President Hamid Karzai on his first visit to Afghanistan.
The Taliban were removed from power in Afghanistan in late 2001 in a US-led invasion weeks after the September 11 attacks by the Al-Qaeda network, which had training camps here and is still allied with the militant movement.
"Here there is a war against terrorism, against fanaticism, that we cannot and must not lose," Sarkozy said.
"That is why it is important that we help with the emergence of an Afghan state that is legitimate, democratic and modern."
France has about 1,600 troops involved in efforts to defeat a Taliban-led insurgency and build Afghanistan's security forces.
Sarkozy said his visit, on which he was accompanied by his defence and foreign ministers, was to assess the situation. This year has been the bloodiest of the insurgency.
France would "take a number of decisions" in the coming weeks, the president said, and would likely increase the number of forces it has here to train the Afghan army and police.
The conflict in Afghanistan has intensified this year and officials say there are more foreign fighters involved, including some linked to Al-Qaeda, which is said to have bases in neighbouring Pakistan.
Sarkozy said Pakistan had to understand that it "must engage resolutely in the fight against terrorism."
He also said Afghanistan's problems could not be solved just through military means, a likely reference to efforts to use reconstruction and reconciliation to persuade rebel fighters to lay down their arms.
Karzai, who is due to visit Islamabad next week, is pushing a reconciliation effort with Taliban fighters who accept the country's democratic constitution.
He has also called for a shift in emphasis in the US-led "war on terror", saying military efforts should be directed at Islamist sanctuaries outside his country.
There are about 60,000 international soldiers in Afghanistan, most of them with the NATO-led International Security Assistance Force (ISAF) of which France is a part.
The French leader started his five-hour visit by holding talks with the ISAF commander, US General Dan McNeill.
Sarkozy told the US Congress last month that French soldiers would stay in Afghanistan "as long as needed".
"For me, failure is not an option," he said.
US President George W. Bush has acknowledged weariness in some ISAF nations for the mission in Afghanistan.
"My biggest concern is that people say, 'Well, we're kind of tired of Afghanistan, and therefore we think we're going to leave,'" he said Thursday.
"It's going to take time for this democratic experiment there in Afghanistan to work. And I believe it will," Bush said.