One of four rebel Philippine soldiers who escaped after seizing a Manila hotel last week was arrested before dawn Wednesday while trying to leave the country, the country's police chief said.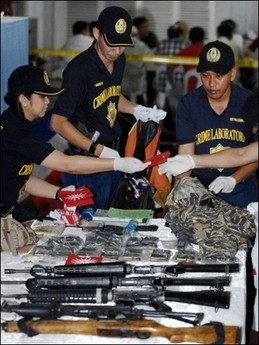 Police display weapons seized from military rebels after a failed coup in Manila 30 November (Photo: AFP)
Sergeant Alvin Celestino was nabbed by airport police and military personnel at Manila's international airport, Director General Avelino Razon said.

Celestino had a one-way air ticket to Detroit in the United States and a valid working visa he apparently secured before last Thursday's uprising , Razon said.

"He was caught before dawn," Razon said over local radio.

Celestino was among a small group of soldiers, led by ex-Navy lieutenant and now Senator Antonio Trillanes and Army Brigadier General Danilo Lim, who took over the Peninsula Hotel along with civilian supporters last Thursday.

They demanded that President Gloria Arroyo step down, accusing her government of massive corruption and of stifling legitimate political dissent. Documents later discovered by police indicated they had planned to set up a "transition government."

The six-hour siege however ended without bloodshed after Trillanes and Lim surrendered when police commandos stormed the hotel.

Celestino escaped along with three others who remain at large, including Captain Nicanor Faeldon.

The group has been charged with rebellion and are detained without bail.