Police said they had arrested 312 people across the country after a series of skirmishes as Tuesday's marches -- which had been peaceful -- wrapped up, with unions claiming up to three million on the streets.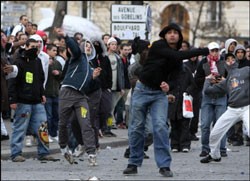 Demonstrators throw stones in Paris during a massive demonstration against the French government's contested youth jobs plan (AFP Photo)
In the south of the capital, dozens of trouble-makers hurled paving stones and bottles at riot police, who fired tear gas. At least nine police officers were slightly injured.
The CGT union said three million people took part in nearly 200 rallies -- roughly the same number it claimed had turned out on the last day of action a week ago. The government figure was just over one million.
Tens of thousands of students and workers marched to the Place de l'Italie in the south of Paris.
Union leaders vowed they would attend talks Wednesday with ruling Union for a Popular Movement (UMP), but only to push for the CPE's complete abrogation.
"If there is a chance to convince UMP deputies that they are at a dead end, we shall go and once again ask for the withdrawal of the CPE. But we refuse to negotiate mere adjustments," the CGT's Bernard Thibault said.
As well as the escalating protests, Prime Minister Dominique de Villepin's botched attempt to reform labour laws has also caused anguished soul-searching about the survival of France's social model against globalisation.
Conceived as a tool against youth unemployment which runs at 22 percent in France, the CPE is a contract for under 26-year-olds that can be terminated by the employer without explanation during a two-year trial period.
Opponents accuse the premier of trampling on hard-won labour rights and of railroading it through parliament without proper consultation with unions and employers.
Chirac offered an elaborate compromise last Friday -- ratifying the CPE but immediately suspending it pending a new law to amend its most hotly contested provisions.
But leaders of the student-union alliance were confident that more can be won, and want all trace of the hated contract written out of the new law.
In a sign of a shifting balance of power in the government, responsibility for organising the new legislation was taken from Villepin and handed to his powerful rival, Interior Minister and UMP chief Nicolas Sarkozy.
An opinion poll to be published this week in L'Express magazine shows that 45 percent of the public think Villepin should resign.
Tuesday's protests were accompanied by strikes in the transport sector, but disruption was limited, with all Paris metro trains running and 70 percent of TGV fast trains. Scores of domestic and European flights were cancelled because of action by air-traffic controllers.
Source: AFP