ABOARD A US MILITARY AIRCRAFT, March 9, 2011 (AFP) - US Defence Secretary Robert Gates's cautious statements on possible military action against Libya do not reflect a rift inside the US administration, his spokesman said Wednesday.
After calls from Britain, France and some US lawmakers for a no-fly zone over Libya, Gates had emerged as a skeptical voice on potential intervention, dismissing ill-conceived "loose talk" on military action.
"I don't know that there is the distance that some of you perceive there to be between his position and others in the administration," press secretary Geoff Morrell told reporters travelling with Gates.
"But it's important to remember what his position is -- he is committed to providing the president with the full range of military options for him to consider."
Gates "believes it is his duty to also present what the possible ramifications are of each option that's being considered," Morrell said.
After a two-day visit to Afghanistan, Gates departed Kabul Wednesday for Stuttgart and Brussels, ahead of a NATO meeting of defence ministers expected to be dominated by the escalating violence in Libya.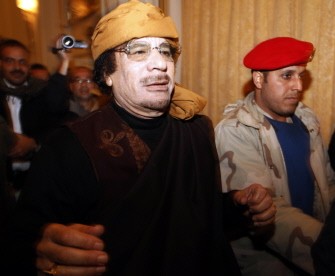 Moamer Kadhafi arrives at the Rixos hotel in the capital Tripoli on March 8, 2011. AFP
Morrell declined to say what Gates would advocate at the NATO session.
The Pentagon was not ready to discuss publicly details of various military options, but contingency planning continued, he said.
"This issue is increasingly moving into the political and diplomatic realms. This is a discussion to be had among political leaders and diplomats as to where we go from here."
The Pentagon chief's "position on this has not changed since he articulated it to you last week," Morrell said.
Gates last week said a no-fly zone would not be a simple operation and would require bombing raids against radar and missiles, while also voicing concern about committing the US military to another conflict in the Middle East.
As pressure grew inside Libya and elsewhere in the Arab world for a no-fly zone, the White House said US and British leaders agreed to press forward with planning a range of possible responses.
Measures under consideration include surveillance, humanitarian assistance, enforcement of the arms embargo and a no-fly zone, the White House said.
In Stuttgart, Gates was due to attend a change of command ceremony for the new head of the US military's Africa command.