WASHINGTON, Feb 10, 2011 (AFP) - US Defense Secretary Robert Gates spoke by phone to his Egyptian counterpart on Thursday while demonstrators in Cairo reacted angrily to President Hosni Mubarak's refusal to quit office.
Gates spoke to Field Marshal Mohammed Hussein Tantawi in "his fifth phone conversation with the Egyptian Defense Minister since the situation in Egypt began," press secretary Geoff Morrell said in a statement.
Morrell said there were "no other details to provide."
On the 17th day of a popular uprising against his 30-year rule, Mubarak announced he was delegating presidential power to Vice President Omar Suleiman, but said he would remain nominally in charge until September.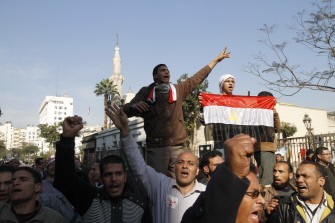 Egyptian anti-government protesters gather outside the Parliament gates located some 500 meters from Cairo's Tahrir Square on February 09, 2011. AFP
The US government views Tantawi as a key player in any post-Mubarak administration.