Hamas, the Islamist movement controlling Gaza, said Friday it has ended its six-month truce with Israel and will respond to any attack on the impoverished and besieged Palestinian territory.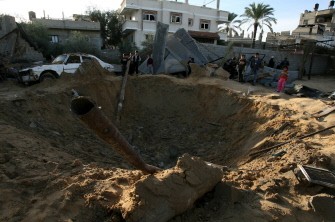 Palestinian children stand looking at a blast crater following an Israeli airstrike on a workshop in Khan Yunis in the southern Gaza Strip on December 18, 2008. (AFP Photo)
"The ceasefire is over and there won't be a renewal because the Zionist enemy has not respected its conditions," Hamas' armed wing, the Ezzedine al-Qassam Brigades, said shortly after 6:00 am (0400 GMT).
Two rockets were fired by Palestinian militants from the southern Gaza Strip into southern Israel following the announcement, an Israeli military spokeswoman said, but caused no injuries or material damage.
Both Hamas and Israel have said they would respond when attacked, but neither has yet said it will go on the offensive.
"We issue a warning to the Zionist enemy: all attacks against the Gaza Strip or any new crime will trigger a large-scale confrontation and we will retaliate very fiercely," said a statement on the website of the Ezzedine al-Qassam Brigades.
Israeli Defence Minister Ehud Barak has indicated that Israel would respond if attacked, saying: "When the situation requires us to, we will act."
Mark Regev, spokesman for Israel's interim Prime Minister Ehud Olmert, said the cabinet would discuss the situation on Sunday.
"We were ready to respect the arrangements concluded with Egypt," he told AFP on Thursday.
Rockets have rained down on southern Israel almost daily since November 4, and Israeli forces have killed 18 Palestinians in Gaza, since then.
On Wednesday two people were wounded when a rocket exploded near a large supermarket in Sderot, an Israeli city just a few kilometres (miles) from Gaza.
Israeli forces conducted several air strikes and killed one Palestinian while Gaza militants fired a barrage of rockets on Wednesday and again on Thursday.
Israeli warplanes on Thursday knocked out two rocket launchers, including one that was set to fire, the military said.
Israel and Hamas have accused each other of violating the truce that was negotiated through Egyptian intermediaries because the Jewish state regards the Islamists as a terrorist organisation.
The Israeli government blames Hamas for not stopping attacks often carried out by smaller Palestinian factions, while the Islamists claim Israel also broke the truce by failing to lift its blockade of the impoverished territory.
Israel responded to a surge of violence in early November by tightening sanctions and closing crossing points with Gaza, halting deliveries of humanitarian aid and other supplies.
The UN Works and Relief Agency said on Thursday shortages caused by the closures have forced it to suspend distribution of food assistance to about half of Gaza's 1.5-million-strong population.
UN Middle East envoy Robert Serry warned that "a major escalation of violence would have grave consequences for the protection of civilians in Israel and Gaza, the welfare of the Gazan civilian population, and the sustainability of political efforts."