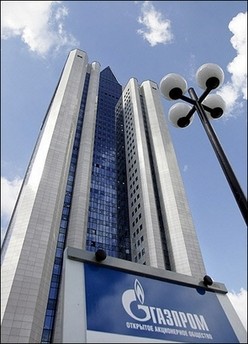 Gazprom's headquarters are seen in Moscow in June 2006.
Russian gas giant Gazprom said it had concluded contracts with Georgia to supply natural gas at the price of 235 dollars for 1,000 cubic metres from next year, averting a potential supply crisis in the Caucasus state.
"We have signed three contracts... at a price of 235 dollars per 1,000 cubic metres," Alexander Medvedev, deputy chairman of Gazprom, said. He said the volume contracted amounted to 1.1 billion cubic metres of gas.
"The order has been given to ensure deliveries starting from January 1," Medvedev said.
The price given by Medvedev is more than double the current rate of 110 dollars per 1,000 cubic metres paid by Georgia and follows tough talks between the two countries, whose relationship has deteriorated in recent months.
Georgia has said it needs at least 1.7 billion cubic meters of gas for 2007.
Georgian Prime Minister Zurab Nogaideli appeared to confirm the deal, albeit with reluctance.
He said Georgia had been obliged to accept Russian conditions because of a technical problem with the Baku-Tibilissi-Erzerum pipeline in Azerbaijan. But he added that neighbouring Azerbaijan would become Georgia's main gas supplier next year.
Speaking of Gazprom Nogaideli said Georgia had long been under pressure from a single gas supplier.
"It wasn't a commercial price on gas but a political ultimatum."
Georgia has been moving to secure alternative gas supplies, including from Azerbaijan, as well as Iran -- which has left Washington less than happy.
Nogaideli told journalists in Tbilisi he was close to agreeing the final details of a deal with Azerbaijan.
Under the arrangement, Georgia would receive gas from Azerbaijan in exchange for transiting supplies through the South Caucasus Pipeline across Georgia from the new Shah Deniz field.
Poor relations between Moscow and Tbilisi deteriorated further in September when Georgia briefly arrested four Russian officers in a spying row. In retaliation, Russia imposed transport sanctions on Georgia.