Georgia and Russia agreed Wednesday to a French-brokered peace plan after Moscow ordered a halt to its military onslaught.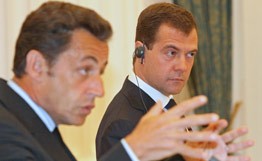 Russian President Medvedev and French President Sarkozy at a press conference after they achieved an agreement on the six principles of the peace plan in Moscow on August 12.
"There is a text. It has been accepted in Moscow, it was accepted here in Georgia. I have the agreement of all the protagonists," French President Nicolas Sarkozy said at a news conference, flanked by his Georgian counterpart Mikheil Saakashvili.
The six-point plan, which obliges the parties to halt fighting, will be reviewed by EU foreign ministers at a meeting in Brussels on Wednesday, according to Sarkozy.
Saakashvili insisted the deal does not compromise Georgia's territorial integrity, and a contentious reference in the plan to negotiations on the "future status" of breakaway South Ossetia and Abkhazia was changed to discussion on how to ensure "security and stability" there instead.
As Sarkozy visited Moscow earlier on Tuesday Russian President Dmitry Medvedev ordered a halt to Russia's military offensive against Georgia.
In announcing the move, Medvedev declared that "the aggressor has been punished and suffered significant losses."
"I have taken the decision to end the operation to force Georgian authorities into peace," Medvedev told defence chiefs though he warned any attacks by Georgia would be "liquidated."