The German government said Monday it was days away from deciding which bidder it prefers for General Motors' Opel unit as the clock ticked down to possible bankruptcy at the once-mighty US auto giant.
"Our aim is to achieve clarity by midweek with regards to the potential investors and also with representatives from the US side -- from the US Treasury and with General Motors," government spokesman Ulrich Wilhelm said.
"This week will be a decisive week," Wilhelm told a regular briefing, with a range of "intense" discussions planned with all parties concerned including GM, Washington and other European countries.
The final say on who will buy a stake in GM's European operations -- which include Opel, Vauxhall in Britain and Saab in Sweden -- lies in Washington and in GM headquarters in Detroit.
Three possible buyers -- Fiat, Magna International and RHJ -- last week filed formal expressions of interest in Berlin in order to secure billions of euros' (dollars) worth of loan guarantees from the German government.
GM is working against a June 1 deadline to convince the US Treasury that it can achieve long-term viability. Failing that, it will be forced to follow fellow US auto giant Chrysler into bankruptcy protection.
The "good progress" made in recent days "must be continued under full steam in order to be in a position to be able to decide and make decisions well before a decision in the US on ... the bankruptcy process for GM," Wilhelm said.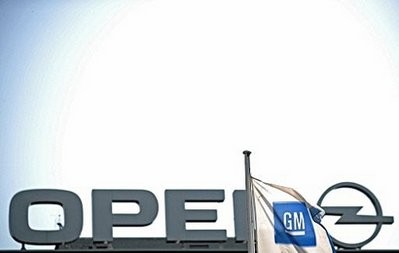 A flag with the logo of US car maker General Motors flutters in front of the plant of car maker Opel in Bochum, western Germany.
German Chancellor Angela Merkel
spoke by phone to
Russian Prime Minister Vladimir Putin
on Saturday about Magna's offer and on Sunday talked with the firm's owner, Frank Stronach, and chief executive Siegfried Wolf, Wilhelm said.
Merkel was due to meet Fiat head Sergio Marchionne on Tuesday in Berlin and the Tagesspiegel daily said that she is planning a summit the next day with the heads of all the firms concerned.
Representatives from the US government and from the German states where Opel has plants will also be present at a meeting which will go "deep into the night if necessary," the Tagesspiegel cited an unnamed source as saying.
"The offers are changing every day," Merkel said on Monday.
Fiat wants to combine GM's European and Latin American operations with Chrysler, in which it has secured a 20 percent stake, to create the world's second largest automaker.
Canadian auto parts giant Magna is bidding together with Russian tycoon Oleg Deripaska's truck company GAZ and Russia's biggest lender, state-run Sberbank.
Brussels-based RHJ International, the third bidder, is part-owned by US private equity group Ripplewood and owns stakes in auto parts firms including Niles and Asehi in Japan, Belgium's Honsel -- and Columbia Music Entertainment.
Magna, which already assembles Saab, BMW and Mercedes vehicles under licence and which offered to buy Chrysler from Daimler in 2007, is seen as favourite in Berlin and Detroit but talks are ongoing with all three bidders.
German Economy Minister Karl-Theodor zu Guttenberg has said however that there was "significant risk" attached to its bid, warning over the weekend that allowing Opel to go into insolvency remained an option.
Juergen Pieper, auto analyst at Metzler Bank, said he believed that this threat was a way for the government to put a gun to bidders' heads in order to secure concessions on job cuts.
"The actual chances of an insolvency are low," Pieper told AFP. "There is still room for negotiations."
Economy Ministry spokesman admitted that insolvency was a last resort.
"The first priority is to find an investor," Moritz told reporters.
"For the economy minister, it is about whether the proposed concepts are currently sufficient to declare the search complete and to be able to deploy taxpayers' money where the associated risks are acceptable."
Insolvency "is not an aim that he is pursuing but is the second best option," Moritz said.