LONDON, May 27, 2009 (AFP) - World stock markets rose Wednesday on hopes of a global economic recovery, after an overnight Wall Street rally that was sparked by an unexpected surge in US consumer confidence, analysts said.
In European late morning trade, Frankfurt gained 0.34 percent, London added 0.44 percent and Paris increased by 0.64 percent.
Asian markets soared, with Hong Kong leaping 5.26 percent and Tokyo winning 1.37 percent on Wednesday as investors seized on the news from the world's biggest economy.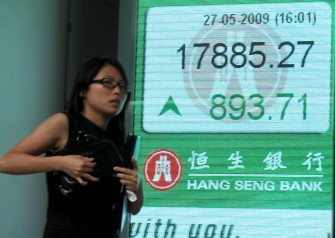 A pedestrian walks past a board displaying the Hang Seng index in Hong Kong on May 27, 2009 (AFP photo)
US consumer confidence leapt in May to an eight-month high, the Conference Board said Tuesday in a report offering fresh hopes of an end to the country's prolonged recession.
In reaction, New York's blue-chip Dow Jones Industrial Average had surged by 2.37 percent or 196.17 points to end at 8,473.49 points on Tuesday.
"Traders are jumping on numbers such as US consumer sentiment -- which has come in well ahead of expectations -- as testament that the fundamentals are starting to improve, even if we do have a long way still to go," said CMC Markets dealer Matt Buckland.
The business research group's consumer confidence index, based on a survey of 5,000 US households, spiked to 54.9 in May from 40.8 in April.
"While confidence is still weak by historical standards, as far as consumers are concerned, the worst is now behind us," said Lynn Franco, the Conference Board's research director.
The reading in May was the highest level since last September, prior to the collapse of US investment bank Lehman Brothers.
"The area that will determine whether any recovery is a sustainable one will depend on the behaviour of the all-powerful US consumer, which still makes up 70 percent of the American economy," said Goodbody analyst Dermot O'Leary.
"For that reason, another good day in equity markets can be justified by the sharp jump in consumer confidence."
As Wall Street traders returned to business following the Memorial Day holiday Monday, stocks came under early pressure amid geopolitical concerns stemming from North Korea's second illegal nuclear test on Monday.
But markets shook off the news after the Conference Board survey on strong consumer confidence, a key to ramping up spending and lifting the American economy out of its deep recession.
Meanwhile investors awaited news on US auto giants Chrysler and General Motors on Wednesday, with a US court due to rule on Chrysler and the German government set to choose its preferred bidder to take over GM's Opel unit.
GM is racing against a June 1 deadline to come up with restructuring measures that would convince the US Treasury to keep it afloat with billions of taxpayer dollars.