One hundred political, military, business and civic leaders from across the globe launched a new initiative in Paris on Tuesday aiming eliminate all nuclear weapons.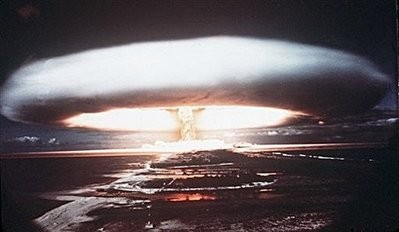 Picture taken in 1971, showing a nuclear explosion in Mururoa atoll. (AFP Photo)
The "Global Zero" declaration, endorsed by a "Who's Who" of the world's foreign policy aristocracy from the past 30 years, calls for a binding and verifiable agreement to dismantle all nuclear weapons by a specified date.
"The threat of proliferation and nuclear terrorism has led to a growing chorus of government leaders ... calling for the elimination of all nuclear weapons, including Russian Prime Minister Vladimir Putin and US President-elect Barack Obama," said a statement issued after many of the signatories met here.
"This new and unprecedented political support for getting to zero nuclear weapons from key governments around the world has made this goal -- while still difficult -- possible," it said.
The declaration was signed by figures such as former Soviet leader Mikhail Gorbachev, Swedish Foreign Minister Carl Bildt, former US president Jimmy Carter, Pakistani Nobel peace laureate Muhammad Yunus, South African Nobel laureate Bihsop Desmond Tutu and Arab League Secretary General Amr Moussa.
It included several former generals in the Indian and Pakistani armies.
China was represented by several leading former diplomats and by Peng Guangqian, a former major general in the People's Liberation Army and a strategist for the country's Academy of Military Science.
The group said it was developing a plan, combining high-level policy work with global public outreach using media, online communications and grassroots organizing.
It invited people to visit its website at www.globalzero.org and sign the same declaration the Global Zero leaders had inked.
Global Zero also said it planned to convene a world summit of hundreds of political, military, business, and civic leaders in January 2010 to move the campaign forward.