The South Korean government on Thursday designated Gyeongju as a special disaster zone after the city was hit by the nation's strongest earthquake on record last week, source from Yonhap News.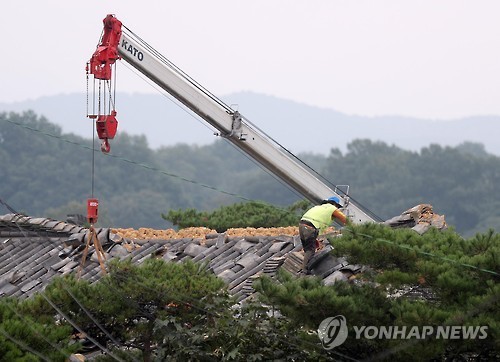 A construction worker replaces roof tiles on a house in Gyeongju, North Gyeongsang Province, on Sept. 22, 2016, after the city was damaged by an earthquake and aftershocks. (Yonhap)
On Sept. 12, Gyeongju, some 371 kilometers southeast of Seoul, was hit by two quakes, one of which registered magnitude 5.8, the strongest to hit the Korean Peninsula to date. The city in North Gyeongsang Province and its nearby area have since been buffeted by hundreds of smaller aftershocks, with a 4.5 quake hitting the region again on Monday.
The city, which was the capital of the ancient Korean kingdom of Silla (57 B.C. to A.D. 935), will receive emergency relief and additional financial support from the government.
This is the first time that the South Korean government has declared a city a special disaster zone due to earthquake damage.
Under existing guidelines, damage from natural and man-made causes must exceed 7.5 billion won (US$6.6 million) in order for the region to be designated a disaster zone. The government previously dispatched a joint inspection team to assess damage in the city.
The government said 9 million won will be initially given to those who suffered complete destruction of their houses and 4.5 million won to those who suffered partial destruction.
The government said it will form an emergency support team that includes the Ministry of Public Safety and Security, the Ministry of the Interior and the Ministry of Health and Welfare to manage the relief efforts systemically. It will also provide psychological treatment for residents in Gyeongju.
Citizens of Gyeongju expressed their appreciation for the government's decision.
"We really thank the government for making this decision," said Gyeongju Mayor Choi Yang-sik. "Since there is government support, we expect a quick and organized recovery."