Greenpeace on Monday called on Japan's incoming prime minister, Yoshihiko Noda, to take steps to protect children from the Fukushima nuclear disaster, boost renewable energy and phase out atomic power.
The environmental group urged the new government to delay the September 1 opening of schools in Fukushima city, northwest of the stricken plant, arguing that radiation in the air and soil spell a health threat to children.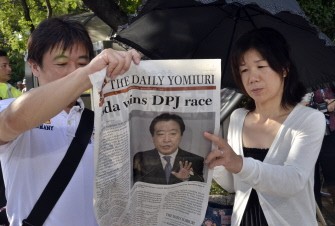 couple read an extra edition of The Daily Yomiuri newspaper reporting on Japanese Finance Minister Yoshihiko Noda who was elected as the new leader of the ruling Democratic Party of Japan in Tokyo on August 29
It also criticised a new government decontamination plan for the greater Fukushima area as "deplorably late and inadequate".
"No parent should have to choose between radiation exposure and education for their child," said Kazue Suzuki, Greenpeace Japan nuclear campaigner.
The group also urged Noda -- the former finance minister and new party chief, due to be confirmed as premier on Tuesday -- to continue the push for an eventual nuclear phase-out that his predecessor Naoto Kan promoted.
Suzuki added: "Japan's new leader must show full commitment to the renewable energy future Prime Minister Naoto Kan fought for, and work towards the immediate phase-out of nuclear power in Japan.
"The people of Japan will not accept anything less."