NEW ORLEANS, Louisiana, July 2, 2010 (AFP) - Choppy seas and high winds will delay deployment of a third containment vessel over the ruptured Gulf of Mexico oil well until next week, a US official warned.
National Incident Coordinator Thad Allen said the Helix Producer ship had been delayed by the effects of Hurricane Alex, which struck northeastern Mexico but was downgraded to a tropical depression on Friday.
"We will need about three days after the weather calms... for that vessel to be able to hook up to the flexible coupling that it would be required to do," Allen said Thursday.
"So we're looking at somewhere around midweek next week to bring the third production vessel on-line." The vessel had originally been due on station by the end of June.
Once operational, the Helix Producer should be able to double the amount of oil being captured to around 53,000 barrels per day.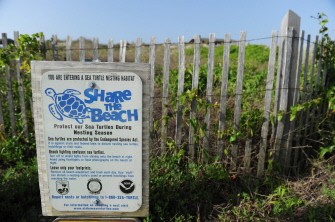 This May 2, 2010 file photo shows a sign telling people of a turtle nesting area on Dauphin Island, Alabama, off the coast of Mobile, as the oil spill from the BP Deepwater Horizon platform disaster approaches the Gulf Coast. AFP
An estimated 35,000 to 60,000 barrels per day has been gushing out of the ruptured well since the BP-leased Deepwater Horizon drilling rig sank on April 22 some 50 miles (80 kilometers) off the coast of Louisiana.
Two other containment ships were still operational despite seven-foot (two-meter) swells, capturing a portion of the escaping oil at a rate of about 25,000 barrels per day.
US Coast Guard Commander Charles Diorio said that the thousands of ships hired to skim oil, lay boom, carry out controlled burns and move equipment will not resume work until waves were less than four feet (one meter) high -- unlikely to happen until Saturday.
Cleanup crews are also waiting for the deployment of a super tanker from Taiwan retrofitted as a giant skimmer dubbed the "whale."
"That vessel is currently in New Orleans," Diorio said, "and it's being inspected by a team of personnel, both Coast Guard and BP and other agencies trying to figure out the best way to employ it, (or) if we can employ it at all."
The giant ship is some 300 yards (275 meters) long and can suck up 21 million gallons of oily water a day, he said.
Allen also said that progress was slightly ahead of schedule on the operation to drill two relief wells which will eventually be used to seal the ruptured Deepwater Horizon gusher.
But the target date is still in August, said Allen, who appeared at the White House in a civilian suit, one day after officially retiring from the US Coast Guard as an admiral.
Around 428 miles (689 kilometers) of US shorelines have now been oiled as crude spews into the sea at an alarming rate, 10 weeks into the worst environmental disaster in US history.
The news comes as the White House said it would announce a decision on a revised six-month moratorium on offshore drilling within days.
The White House vowed last week to issue a fresh moratorium on deepwater oil drilling after district judge Martin Feldman said it would cause irreparable economic harm.
Obama spokesman Robert Gibbs said new moratorium terms from the Interior Department would likely come out "in the next few days," most likely after the long July 4 Independence Day weekend.
Obama first imposed the six-month moratorium in late May, after the true extent of the disaster became clear.
He and Vice President Joe Biden, who visited the southern Gulf Coast disaster zone earlier this week, meanwhile met senior officials involved in the clean-up operation in the secure White House Situation Room.
The briefing, Gibbs later said, also covered hurricane projections for the expected stormy summer season and their potential impacts on the response.
Late Wednesday, Obama directed Navy Secretary Ray Mabus, whom he has put in charge of the restoration of the Gulf Coast, to come up with a long-term recovery plan "as soon as possible."
On Capitol Hill, the focus turned again to the bill for clean-up and restoration.
"It will take billions of dollars -- even trillions," Democratic Representative Sheila Jackson Lee told reporters, citing "a presentation by the president's team on the BP oil spill" early in the day.