Heavy automatic gunfire erupted in the centre of Tripoli, as rebels denied claims by Libya state televion that key towns had been recaptured.
In the capital it was not immediately clear where the shots were coming from, but they were heard at a hotel not far from the capital's Green Square area.
The capital, under the control of Moamer Kadhafi's forces, has largely avoided the violence raging through the rest of the country where rebels have taken over a swathe of the east as well as the second city of Benghazi.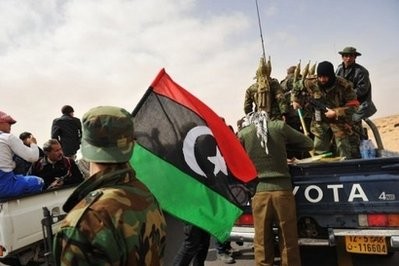 Libyan rebel fighters check their equipment at Ras Lanuf before advancing into the north central town of Benjawad.
AFP
correspondents
also reported the key oil pipeline hub of Ras Lanuf was still in rebel hands on Sunday, countering claims by a state-owned television that it had been recaptured.
"Kadhafi says they took back Ras Lanuf, but we are still here in Ras Lanuf and not only here, but further (west)," Colonel Bashir al-Moghrabi, one of the rebel leaders in Ras Lanuf told reporters outside the only hotel in town.
AFP correspondents are among a number of foreign journalists staying in a hotel on the western outskirts of Ras Lanuf and there were no sounds of any fighting around the town during the night.
"There were no clashes during the night, the town is under our control," another rebel fighter told AFP.
A warplane flew over Ras Lanuf on Sunday, triggering anti-aircraft fire from near a checkpoint on the eastern edge.
An AFP reporter saw two craters in the sand near the checkpoint and smoke rising into the air.
A Libyan state television channel had reported earlier that the town had been recaptured by loyalist forces, along with the third city of Misrata and the town of Tobruk, which controls the road to the Egyptian border.
The opposition denied that loyalists had recaptured Tobruk, saying they were in full control.
"It's not true. The region is under control from Ajdabiya to the Egyptian border," Fateh Faraj, a member of the rebel-appointed council in Tobruk told AFP by telephone from the town.
He said the situation was calm and that "absolutely nothing" was happening.