Gunmen in Pakistan opened fire on trucks carrying supplies to NATO troops in Afghanistan, torching more than a dozen vehicles and killing seven people near Islamabad, police said Wednesday.
The attack took place overnight at Tarnol on the outskirts of the Pakistani capital on the road to the northwestern city of Peshawar and in turn towards the main NATO supply route into neighbouring Afghanistan.
Although militants have carried out a series of strikes against supplies for US and NATO-led foreign forces fighting the Taliban insurgency in Afghanistan, Wednesday's assault was the first so close to the heavily guarded capital.
"Seven deaths have been confirmed. Four are injured. There is no information about any arrests," said police official Gustasab Khan. The casualties were the drivers of the trucks, their helpers or local people, Khan said.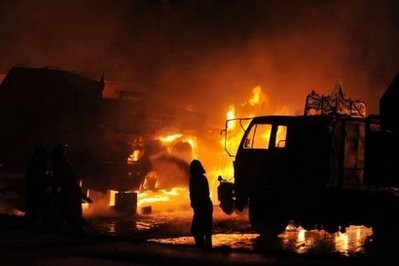 Pakistani fire fighters try to extinguish burning NATO supply trucks carrying military vehicles and oil following a militant attack on the outskirts of Islamabad on June 9, 2010
"Unknown attackers opened fire on vehicles parked at Tarnol. Fire erupted in the tankers and trucks, and over a dozen were set ablaze. They were trucks carrying NATO supplies," said police official Tahir Riaz.
Local television stations reported that fire brigades had been mobilised to the scene in order to bring heavy fire under control and said there had been a series of explosions caused by the bursting of tyres and fuel tankers.
Kalim Iman, inspector general of Islamabad police, told reporters that the attack was carried out by 10 to 12 assailants, who stormed the terminal outside the capital.
"We are working to arrest them," he said.
The bulk of supplies and equipment required by the 130,000 US-led foreign troops across the border are shipped through northwest Pakistan, which has been hard hit by shootings and bomb attacks blamed on radical Islamist militants.
But the heavily protected capital has been largely shielded from attacks blamed on Al-Qaeda and Taliban-linked militant attacks, which have killed more than 3,370 people since July 2007.
The attacks began as retaliation over a government siege on a radical mosque in Islamabad and flared last year as the military fought major campaigns against Taliban in the northwest regions of Swat and South Waziristan.
Washington says Pakistan's northwest tribal belt, which lies outside direct government control, is an Al-Qaeda headquarters and a stronghold for militants plotting attacks on US-led troops fighting against the Taliban in Afghanistan.
Faced with the increasingly deadly and costly conflict between Taliban insurgents and the Kabul government, the United States and NATO allies are boosting their troop numbers to a record 150,000 in Afghanistan by August.