NEW YORK, May 5, 2009 (AFP) - The dispatch in the spring of 1918 from the Spanish news agency noted only "a strange form of disease."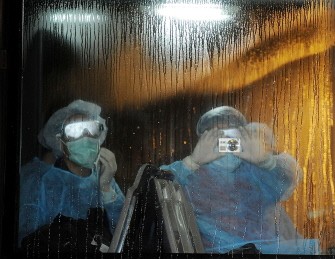 Two Mexicans wait on a bus prior to boarding a plane sent by Mexico in Hong Kong on May 6, 2009 (AFP photo)
Madrid residents were coughing, had fever and breathing difficulties. However, the report reassured: "the epidemic is of a mild nature."
By late summer, they were dying. And by autumn, what became known as the Spanish influenza -- or the "Spanish lady" in the United States -- became the deadliest recorded pandemic of all time, with 20 to 50 million deaths worldwide.
The bad news is that today's swine flu is related to the same H1N1-type virus.
The good news, says the US Centers for Disease Control and Prevention (CDC), is that this descendant of the "mother of all pandemics" is much less vicious.
Juergen Richt, a professor at Kansas State University, calls the two "distant cousins."
There are similarities. For example, the earlier version, like the one that appeared in Mexico last month, was capable of using pigs as hosts, he explained.
Another link, said Professor Lawrence Stanberry at Columbia University, is that both surfaced during the northern hemisphere's spring, later than the usual flu. "That's curious," he said.
Perhaps the most startling aspect of the Spanish influenza was that most victims were 20 to 40 years old, the bracket usually least vulnerable to flu deaths.
Data from Mexico continues to be revised and so far, there have been only a handful of confirmed deaths. But reports at the start of the outbreak also suggested a heavy impact on healthy adults, rather than just children and the elderly.
The World Bank says in a worst-case estimate that a pandemic of a similar scale to 1918 would slay 71 million people today, triggering deep global recession.
But despite eerie parallels, some researchers believe the earlier disaster was a one-off.
Biologist Paul Ewald, at the University of Louisville, said flu viruses rarely kill en masse, because they depend on their host, in this case humans, for delivery.
The disaster of 1918 took place thanks to an extraordinary set of circumstances, where sick and wounded soldiers from World War I were being shipped in cramped conditions across Europe and overseas, he said.
In fact, despite its name, the first outbreak is believed to have occurred not in Spain but in military camps in France or Kansas. Other theories point to Asia.
"Probably a million people were infected in western Europe and all these people were moving around the world," Ewald said. "This was a gold mine for these viruses."
Regular flu is considered a mild to moderate disease, killing at most one in 1,000 infected people, he said, compared to one in 50 or 100 during the Spanish flu. The death toll exceeded the butchery of World War I itself.
The new A(H1N1) virus, however, has no chance of finding such fertile ground and will fizzle out, Ewald predicted.
Pointing to the apparent ability of US patients to quickly shake off the illness, he said, "it looks like it already has."
Other scientists stress it's too early to relax.
One worry is that today's virus will subside then return more strongly, the pattern followed by the Spanish flu and other pandemics in 1957 and 1968.
"You're not done when there's a first wave," said Lone Simonsen of George Washington University.
"In at least three pandemics we see these repeated waves and a tendency to have the burden late on, not to have most deaths in the first wave."
A second wave would typically strike the northern hemisphere during flu season next autumn and winter. For southern hemisphere countries, heading to winter right now, even the first wave might bring more trouble.
"In our hemisphere, it's getting warmer and so they don't spread so well," Richt said. "If it's colder and more wet, the virus can survive longer in that environment than in the sun."
As laboratories race to create a vaccine against the current H1N1, scientists agree on at least one point: that viruses are unpredictable and that new ones need watching.
"There's a respect for this virus," said Gregory Gray, professor at the University of Iowa.
"There's not a need to panic, but there is a recognition that this is a novel one."