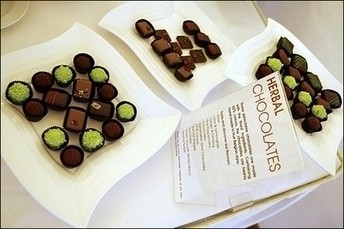 Herbal chocolates are displayed at the press conference by healthcare company Eu Yan Sang International Limited in Singapore
Fancy a chocolate that can boost your health? Healthcare company Eu Yan Sang International Limited intends to roll out a series of food products, including chocolates, that are infused with traditional Chinese herbs like ginseng in a bid to grow its business.
Under the "Red White and Pure" label, the aim is to offer Chinese medicinal therapy in a stylish, urban setting to broaden its appeal with Western consumers, the company said.
Eu Yan Sang will open its first "Red White and Pure" store in Singapore in December. It plans to offer a 70-seat dining outlet, a beverage bar serving tonic drinks, an outdoor eatery and a retail area.
"We have had a lot of interest on the use of Chinese herbs in all forms of cooking and we are not talking about the traditional Chinese herbal cooking here," Richard Eu, group chief executive of the company, said Tuesday at a press conference.
"So we are trying to find new ways of using the Chinese herbs in cooking and in cuisine," he said.
He said that adding Chinese herbs like ginseng and red dates to chocolates was one way that Eu Yan Sang hopes to broaden its reach to Western consumers.
"We think that an idea like this probably has greater appeal in the Western markets because that is where we want to go... going into the Western markets or the non-Chinese markets. We want to find something with broader appeal," Eu said.
He said the Singapore store will allow them a test run before the company takes the new brand to Western markets including the United States.
"The idea is really to use this as a platform to work out the bugs and then try and transport the idea particularly to Western countries," Eu said.
Eu Yan Sang has 114 retail outlets in Hong Kong, Malaysia and Singapore. Its products are also available in pharmacies, supermarkets and health clubs around the world.