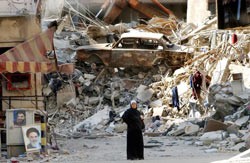 A Lebanese woman stands in front of wreckage of destroyed buildings in devastated Beirut's southern suburb, August 23, 2006 (AFP Photo)
Hezbollah will not breach the UN-brokered ceasefire with Israel but could respond to violations by the Jewish state, an MP with the Shiite militant group said in remarks published Thursday.
"The resistance (Hezbollah) is committed to the cessation of hostilities until the complete ceasefire is achieved," Mohamed Raad said in an interview with Al-Balad newspaper.
"The resistance (Hezbollah) and the army may decide to confront these violations anytime the government sees the need to take a political decision to put an end to these violations."
On Sunday, Lebanese Defense Minister Elias Murr said Hezbollah was committed to the August 14 truce and warned that anyone who would breach the truce by firing rockets on Israel would be arrested and charged with treason.
Israel launched a massive offensive on Lebanon on July 12 after Hezbollah captured two Israeli soldiers in a bid to force a prisoner exchange.
The 34-day conflict came to an end on August 14 after a UN-brokered agreement for a cessation of hostilities in line with Security Council Resolution 1701.
The resolution calls for an Israeli pullout from southern Lebanon, the deployment of Lebanese troops and an expanded UN force in the area which has been under Hezbollah control and the disarming of all militias.
Hezbollah's guerrilla warfare was instrumental in leading to Israel's withdrawal from southern Lebanon after 22 years of occupation in May 2000.
The party has two cabinet ministers and 14 MPs in the 128-member parliament.
"The resistance will not give the enemy the chance to provoke it and lure it into confrontations that Israel could use as a justification to keep its forces in Lebanon," Raad said.
"The priority of the resistance is the complete Israeli withdrawal," he said.
Israeli forces are still occupying at least nine areas along the border.
Raad said Hezbollah wanted to provide "an atmosphere of calm for the return of all the people to their villages and the suitable atmosphere for the deployment of the Lebanese army."

Source: AFP