Vientiane (VNA) - At least four people have died in Laos's capital city of Vientiane as a result of flooding caused by record high water levels in the Mekong River.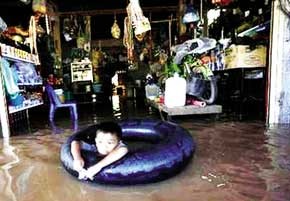 Serious flooding in Vientiane

Thousands of houses and hectares of rice fields have been submerged in many other provinces, causing initial damage of 40 billion Lao Kip (4 million USD).
The Mekong River Commission reported on August 15 that the Mekong River hit its highest level in Laos in 100 years. It reached approximate 14 meters when running through Vientiane, over one meter higher than the alert level.