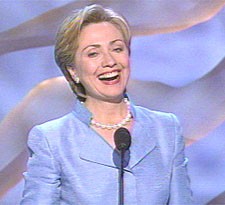 US Senator Hillary Clinton
US Senator Hillary Clinton says she has made "no decisions" as yet about running for the US presidency.
Her comments came late Friday during her first-ever debate against the Republican challenger for her US Senate seat -- an event nominally about next month's congressional election, but which focused largely on the former first lady's possible 2008 White House bid.
"Obviously, people are talking about whether I will or should be running for president, and I'm flattered by that," Clinton said when asked if she would serve an entire six-year term if re-elected to her Senate seat.
"If that is a concern for people, they should factor that into their decision in November. But I have made no decisions," she said.
The New York Democrat deflected repeated questions about whether she could do a better job than Republican president George W. Bush, and about whether Americans are ready for a woman president.
"I'm not going there," she replied, laughing.
Spencer meanwhile, accused her of using her Senate seat as a launch pad for higher office.
"I'm the only one standing on this platform that wants to be a United States senator for the people of New York for six years," the conservative former mayor of the city of Yonkers, New York admonished Clinton.
"She was given a welcome mat and I believe she's using it as a doormat to get to the White House," Spencer said.