HOLLYWOOD, Feb 22, 2009 (AFP) - Movie legends and children from a Mumbai shantytown lit up a revamped Oscars as the entertainment industry forgot about recession for a celebration of old-fashioned Hollywood glamour here Sunday.
An overcast afternoon burst into technicolor at the pre-show's red carpet catwalk with the child stars of Bollywood-infused best picture winner "Slumdog Millionaire" arriving early and delighting onlookers.
The film's British director Danny Boyle arrived holding hands with several children flown to Los Angeles for Sunday's ceremony, a glittering make-believe world away from their lives in Mumbai's poorest areas.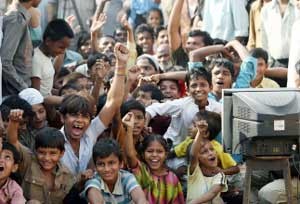 Neighbors of Slumdog Millionaire child actor Mohammed Azharuddin cheer as they watch the Oscars on television in Mumbai, India on Feb. 23 (Photo: AFP)
Ayush Mahesh Khedekar, who plays the film's hero as a child, told a reporter delightedly: "It's unbelievable. I never thought I'd be at the Oscars."
Khedekar and his young co-stars were later seen crowding around British actor Daniel Craig -- best known for his role as British super-spy 007 in the James Bond action films -- to get autographs.
Soon afterwards they were spotted barreling into Hollywood icon Meryl Streep, who duly obliged with more autograph requests.
The light-hearted atmosphere on the red carpet was later matched by the mood inside the Kodak Theater, where Australian actor and host Hugh Jackman launched proceedings with an energetic opening riff.
Jackman, chosen for the role of host to give the ceremony a more showbusiness feel, did not disappoint.
At one stage the star of big-budget box-office flop "Australia" even joked about the impact the economy was having on the movie business.
"Next year I'll be starring in a movie called 'New Zealand'" he quipped, before launching into a medley that referenced each of the five best picture nominees. At one stage he hauled best actress nominee Anne Hathaway out of the audience for a duet that satirized best picture nominee "Frost/Nixon.
Later Jackman donned top hat and tails to embark on a dance routine that was a clear nod to the golden age of Hollywood musicals, for a medley that included stars such as Beyonce and Zac Efron.
Arguably the most successful break with the ceremony's long-established traditions came with the presentation of the acting awards.
Instead of canned clips of each nominees performances being played to the audience, five former winners of the award in question were unveiled to present each individual nominee.
That tweak was at its most effective when the best actress award was named and former winners such as Sophia Loren, Shirley MacLaine, Nicole Kidman, Marion Cotillard and Halle Berry took to the stage together.
But the night belonged to the cast and crew of the Bollywood-infused "Slumdog Millionaire", who crowded onto the stage for the night's final act, receiving best picture honors from Steven Spielberg.
"It's lovely to have brought them together, really. And it makes tonight deeply special for us, because we tried to make the film as a family unit, everybody," director Danny Boyle said.
"And to have them all here makes tonight feel like family really, rather than individual, so, we are very pleased."