HONG KONG (AFP) – The price of gold struck a record high above 1,280 US dollars an ounce in Hong Kong trade on Friday.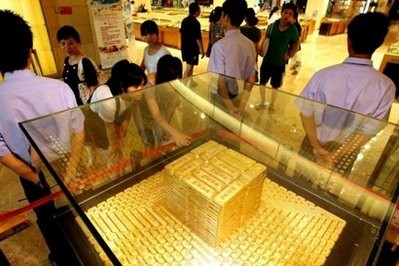 (AFP file) Visitors are seen looking at a tower of gold bars at a shopping mall in Beijing.
The precious metal rose to 1,280.20 US dollars an ounce in afternoon trading, after opening at 1,274.00-1,275.00 dollars.
It has marked up a series of record highs this week, hitting almost 1,278 dollars on Thursday.
Traders moved into the safe haven on rising concerns for the global economy after the European Union warned Monday that fears of a resurgent eurozone debt crisis were likely to stunt the region's economic growth prospects this year.
And on Thursday, analysts said that the US economy remained fragile despite a drop in the number of people claiming jobless benefits in the world's biggest economy.
The rise also came amid speculation that the United States may revert to crisis-era spending measures to boost the country's economy as fears grow of a fresh slowdown there.
Analysts expect gold to break the 1,300 dollar mark before the end of the year, although they said recent gains could be pared back as investors lock in profits.