LONDON, March 6, 2011 (AFP) - The heads of HSBC insisted Sunday that Europe's biggest bank would like to remain headquartered in London after a newspaper said it was considering relocation to Hong Kong for tax purposes.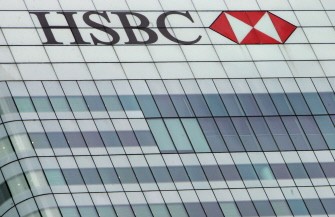 AFP file - This picture taken on August 2, 2010 shows HSBC's headquarters at Canary Wharf, in London.
In a joint statement, HSBC chairman Douglas Flint and chief executive Stuart Gulliver said that "talk of imminent change in HSBC's position ... is entirely speculative and presumptuous."
HSBC, which has been headquartered in London for 19 years, has warned key investors that it is looking at moving to Hong Kong owing to high levels of British tax and red tape, The Sunday Telegraph had reported.
The group was founded in Hong Kong and Shanghai in 1865 and the bank regards Asia as its most important region.
HSBC insisted that it would prefer to remain headquartered in the British capital, while highlighting investor concerns about the continued international competitiveness of the City, London's financial district.
"London continues to be widely recognised as one of the world's leading international financial centres, a position it has built over many decades through deliberate policy action," said Flint and Gulliver.
"We have been very clear that it is our preference to remain headquartered here. We are however, in light of possible regulatory changes and additional costs such as the bank levy, being increasingly asked by shareholders and investors about the likely additional cost of being headquartered in the UK.
"We are very clear that the City of London's competitive position deserves protection and HSBC will play a full part in this; we are encouraged by the UK government's recent commitments to do the same.
"Talk of imminent change in HSBC's position on this matter is entirely speculative and presumptuous," the pair added.
Britain's coalition government last month increased its annual banking levy to £2.5 billion (2.9 billion euros, $4.0 billion), in a surprise move that has angered the banking sector.
A source described as a top institutional investor in HSBC told The Sunday Telegraph: "HSBC has a review of its domicile every three years. Normally it's a formality. This time we were told that a move is now more than likely." Another shareholder was quoted as saying: "Instinctively we were very surprised by the change of tone. But you can't argue with the numbers. Moving to Hong Kong could deliver a 30 percent premium (to the share price) overnight."
HSBC last week said that its net profit more than doubled to $13.16 billion (9.56 billion euros) in 2010 as bad debts plunged to the lowest level since 2006.