Troops joined police searching Wednesday for hundreds of people missing a day after a bridge collapsed killing 15 and injuring 40 more in a steep river gorge in Nepal, officials said.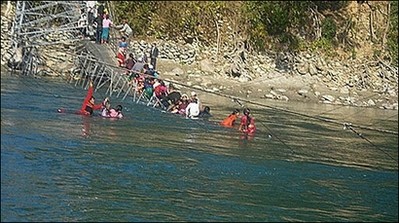 Nepalese people pull themselves off a collapsed suspension bridge in the Bheri river, Surkhet District, some 240 miles west of Kathmandu (Photo: AFP)
Nearly 400 people were on the bridge over the Bheri river, 380 kilometers (240 miles) west of the capital Kathmandu, when disaster struck on Tuesday afternoon, witnesses said.

Scores of people were also hurt in the disaster.

"The rescue operations began early Wednesday morning. Around 450 police and soldiers have been deployed to scour the river banks from three locations," district administrator Anil Kumar Pandey told AFP by phone.

The 500-metre (1,650-foot) bridge, only a year old and made of metal and steel coils, plunged into the gorge after a catastrophic failure of one of the supporting pillars that rose 50 meters above the water level, officials said.

Despite the search efforts, including two helicopters that were scouring the river, hopes of finding people still alive appeared remote.

"The chances of finding survivors look slim," Pandey said.

Deputy superintendent of police Bahadur Jung Malla, who was involved in the rescue operations, told AFP that police and army teams were combing the river banks up to 40 kilometers (25 miles) downstream.

"It appears that mostly women and children are the ones who have gone missing," he said.

"It's a huge tragedy. Relatives are coming to us to report about their missing kin," Malla added.

The bridge was crowded with locals who were heading to a religious ceremony to celebrate the full moon that began on Monday.

Around 40 people, mostly women and children, who were rescued from the site were treated in hospitals in nearby towns, the official said.

"Some of the seriously wounded have been airlifted to Kathmandu for further treatment," said Pandey.

"Many people with mild injuries have been sent home after first-aid treatment," added Malla.

Initial rescue efforts were halted in the cold and darkness overnight.

The site where the bridge fell into the river is estimated to be around 25 meters (82 feet) deep, the police official said.

Officials fear many people may have been swept downstream into remote areas of the mainly agricultural countryside that surrounds the Bheri, one of Nepal's largest rivers.

But as many as 100 people reportedly managed to swim to safety with the river at low winter season flow.

Superintendent Malla said dozens of people scrambled to safety after clinging on to ropes hanging off the fallen bridge that only opened a year ago.

Nepal has hundreds of small bridges in the rugged countryside that range from rope or wooden planks to steel and concrete.

The landlocked Himalayan nation is cut by dozens of rivers across one of the steepest topographies in the world.