One of Venezuelan President Hugo Chavez's brothers said Sunday that backers of the hospitalized leftist leader should not rule out armed struggle in the future, though they prefer to maintain power at the ballot bo
Adan Chavez's statement came as speculation mounted about the health of the president, who has been convalescing at an undisclosed location in Cuba after reportedly undergoing emergency surgery 16 days ago.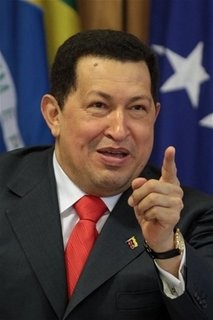 In this June 6, 2011 file photo, Venezuela's President Hugo Chavez
Chavez's older brother said Venezuela's ruling party wants to retain power by defeating foes in elections. But he told government supporters that they should be ready to take up arms if necessary.
"As authentic revolutionaries, we cannot forget other forms of fighting," he said during a prayer meeting for the health of his 56-year-old brother in the leader's home state of Barinas.
Quoting Latin American revolutionary icon Ernesto "Che" Guevara, the president's brother added: "It would be inexcusable to limit ourselves to only the electoral and not see other forms of struggle, including the armed struggle."
Adan Chavez is a mild-mannered former university physics professor who has a close relationship with the president while maintaining a low profile. He did not explain why it might be necessary for the president's backers to consider the possibility of guerrilla warfare in the future, and the statement seemed to clash with Hugo Chavez's own assertions.
The president, a former paratroop commander, led an unsuccessful attempt to overthrow an earlier government in 1992. But he has repeatedly beaten his adversaries in elections since taking office in 1999 and he has long insisted that he is an authentic democrat who rules out violence as a means of holding onto power.