KITTY HAWK, North Carolina, Sept 3, 2010 (AFP) - Hurricane Earl bore down on North Carolina early Friday, promising to lash a vast stretch of the US East Coast with tropical storm force winds, heavy rain and dangerous surf.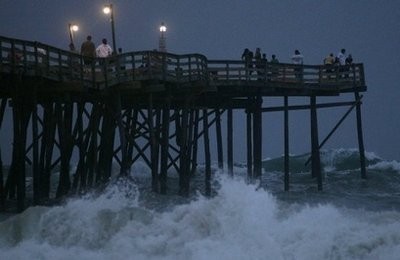 People watch heavy surf from approaching Hurricane Earl in Kill Devil Hills, North Carolina. AFP
Coastal residents huddled at home after tens of thousands fled the strongest Atlantic storm of 2010, which was expected to produce major swells along much of the eastern seaboard during the day, send waters surging up to five feet (1.5 meters) and dump up to six inches (15 centimeters) of rain.
Although Earl was earlier downgraded to a category two storm, it was set to bring destructive winds and heavy rains to North Carolina's coast before moving north, reaching Canada's Nova Scotia by early Saturday.
Weather watchers said Earl was the most powerful hurricane to threaten the US Northeast and New England since 1991, when Hurricane Bob caused deadly damage.
For vacationers, the forecast track up-ended plans for a final few care-free days at the beach before the end of summer for the Labor Day holiday weekend that draws millions to East Coast beaches.
At 2:00 am (0600 GMT), the US National Hurricane Center (NHC) said the storm's sustained winds had dipped to near 105 miles (170 kilometers) per hour, but warned it was still a major hurricane expected to pass near North Carolina's Outer Banks, skimming Massachusetts by the evening.
The huge storm several hundred miles across was heading north at around 18 miles (30 km) per hour. It was located about 85 miles (140 km) east-southeast of Cape Hatteras in the Outer Banks -- a narrow band of North Carolina barrier islands.
With the Miami-based center predicting hurricane strength winds as far as 70 miles (110 km) from the eye of the storm, coastal North Carolina residents were battening down and tourists were scattering inland.
"It's a serious storm, and we need to treat it like a serious storm," said North Carolina Governor Beverly Perdue.
"This is a day of action," warned Craig Fugate, chief of the Federal Emergency Management Agency (FEMA).
"People need to be rapidly completing their preparedness in the Carolina's Outer Banks, and for other folks along the East Coast they really need to focus today on what they are going to do when the storm gets there."
FEMA said 400,000 liters (105,670 gallons) of water and 300,000 meals were being allocated to a support center at a military base in North Carolina in preparation for the storm.
While some storm-hardened residents were ignoring evacuation orders, hardware store manager Chris Davidson said he planned to drive with his wife and two children about 100 miles (160 km) inland, where his mother lives.
"It seems like more people are taking it more seriously than in the past," Davidson told AFP.
A hurricane warning was extended across coastal Massachusetts, including the popular retreat areas of Cape Cod, Nantucket and Martha's Vineyard, while the Canadian Hurricane Centre issued a hurricane watch for parts of Nova Scotia.
Tropical storm warnings meanwhile were issued for points all along the US East Coast, as President Barack Obama signed disaster declarations for North Carolina and Massachusetts, ordering federal assistance to support response efforts.
"This is a large system that impacts well away from the center, and time will be running out for people that had not got ready," Fugate warned.
Davidson said vacationers were lamenting the premature end of their summer, while local business owners bemoaned lost revenue they had been counting on.
"It'll definitely hurt the local economy," he said.
"This was a big weekend for the hotels, restaurants and other businesses -- although for us, it could give us additional business once the storm is over, depending on how bad it is."
Forecasters were also closely tracking the path of Tropical Storm Fiona about 360 miles (580 km) south of Bermuda, with wind speeds of up to 50 miles (85 km) per hour. It was expected to rake over the island chain beginning late Friday or early Saturday.
Gaston, the fourth tropical storm to form in the Atlantic over the past two weeks, weakened Thursday to a tropical depression, the NHC said, much to the relief of aid officials worried it would plow directly over Haiti, still recovering from January's massive earthquake.