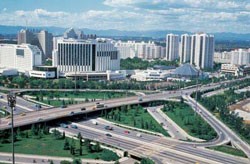 With growing stature as a global economic powerhouse, China must have increase in its voting rights in IMF
IMF directors have agreed to overhaul the institution to give more influence to developing countries reflecting the shifting balance of power in the global economy.
Under the plan, China, Republic of Korea, Turkey and Mexico will see immediate increases in their voting rights as part of a broader two-year program of reform, International Monetary Fund managing director Rodrigo Rato said.
"I think that all members recognise that relevant quotas and voting shares do not adequately respond to the reality of the world economy," Rato told reporters in an online briefing from Washington late Thursday.
The 184-member Fund, which was set up at the end of World War II and lends money to countries in deep economic difficulties, remains dominated by the United States, European countries and Japan.
Despite is growing stature as a global economic powerhouse, China has less voting power than Belgium and the Netherlands combined.
Along with its sister institution the World Bank, the IMF has come under criticism in countries such as Argentina and in Southeast Asia and Africa for prescribing severe belt-tightening measures.
Rato said there was an agreement that a new formula for quotas should be based on the size of a country's economy and its openness but the exact parameters had not yet been decided.
The quotas determine how much a member contributes to the Fund, its voting rights and access to financing, which currently totals 28 billion dollars in loans outstanding to 74 countries.
At the same time Rato said it was important to protect the voice and representation of lower income countries through an increase in the number of basic votes a member is allocated regardless of their economic clout.
African countries are worried that with the focus on fast-growing economies they could miss out on a chance to get a greater say themselves at the IMF.
The plan, approved by the 24 IMF directors late Thursday, will be submitted to the governors from each member country and is expected to be given final approval at the Fund's annual meeting on September 19-20 in Singapore.
The US government sees reform of the IMF as central to its goal of redressing global economic imbalances, which have frequently been cited by Rato as one of the biggest menaces to world growth.
"The United States has expressed clearly that they are backing the reform package," Rato said.
Rato, a former Spanish economy minister, has previously said he expects reform to have little impact on the actual policy decisions of the IMF.
The Fund is also looking to step up its financial surveillance role through multilateral consultations and other measures.
Japanese Finance Minister Sadakazu Tanigaki welcomed the IMF board's decision, saying his government would work with other nations on increases to fund quotas. Tokyo has been a vocal proponent of reform of the Fund.
Source: AFP