SINGAPORE, Dec 24, 2008 (AFP) - Cartoon-like images of an airplane crashing into New York's World Trade Centre appear on a large screen at the front of the auditorium.
"Who piloted the airplane?" Lieutenant Shahdele asks the students, testing their knowledge of Al-Qaeda's attacks on the United States seven years ago.
"Terrorists," they call.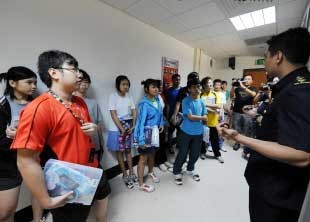 A group of Singaporean students are briefed by an officer before their lessons at the Singapore Civil Defence Force (SCDF) training facilities in Singapore on Nov. 18, 2008. (AFP PHOTO)
It is day two of security-conscious Singapore's first Youth Resilience Camp, which has brought 70 teenagers together to learn about security and natural disaster threats facing the peaceful island republic.
Shahdele, a firefighter, looks TV-star handsome in his blue tunic and gelled hair. But he is teaching the students about an ugly subject: "unconventional threats" from chemical and biological material that can kill.
"Oh my God!" a girl gasps when the screen flashes a picture of a lung blackened from the inhalation of anthrax.
Singapore, one of Asia's wealthiest and safest cities, has not experienced a fatal bombing since early 1965, shortly before its independence.
That bomb placed by "Indonesian saboteurs" claimed two lives and injured 35, according to the memoirs of Lee Kuan Yew, Singapore's founding father.
"I think people are more likely to be complacent these days than paranoid," Clive Williams, a specialist in terrorism at the Australian National University, said in an interview.
"Singaporeans have not been directly affected by terrorism for nearly 50 years."
While there has been no recent attack on the city-state, the late-November death in Mumbai of Lo Hwei Yen, 28, jolted Singapore. She was among 163 people killed during a rampage by militants in the Indian city.
Prime Minister Lee Hsien Loong described Lo as the country's first victim of terrorism. He said her death "brings home to all of us the reality of this terrorist threat, and how important it is to keep up our guard and defeat it".
Part of that job lies with the government's National Resilience Division, whose mission is "to nurture a resilient nation with the resolve and confidence to overcome crises".
The Division said it helped organize the Youth Resilience Camp, shortly before the Mumbai attacks, to give young people "a quick understanding of some of the security threats and vulnerabilities facing Singapore and the need for resilience and preparedness to confront such situations".
K.U. Menon, the Division's director, said surveys show public preparedness for a terrorist attack remains low.
"You think we're safe?" Rafik Md Noor, a retired member of the Singapore Civil Defence Force, the paramedic and fire brigade, asked the students in a briefing on what to do during tsunamis and earthquakes.
The message was serious but Rafik, with a rumpled look and a slightly protruding belly, delivered it with humor.
Three girls in the front row took extensive notes.
"The government cannot help everybody. You have to help yourself," he told them.
And that, he said, was why they were there.
Some lessons were more appropriate for wartime: fuel rationing, blood donations, stockpiling of essential items, and water distribution.
"Sometimes water in your (housing) estate is cut off. By who? By terrorists," Rafik said. "We will never know when disaster will come."
His briefing included a demonstration of Singapore's public warning siren system, including the signal for "enemy attack".
Students learned that the city's underground railway stations are designated as emergency shelters, and Shahdele told them of the need to keep a "ready bag" to bring along if they must flee their homes. The bag should contain first aid material, a radio and other essential items, he said.
"It does not include your plasma TV," he joked.
For Syed Muhd Ikhtiary, 14, the training was very useful.
"Because they teach us how to be ready if there's any threat of any trouble," he said, adding that although Singapore is in "good hands," disaster could still strike.
"It may happen any time."
Singapore's last fatal bombing may have been more than 40 years ago but threats have been more recent, says the government, which prides itself on rigorous anti-terrorist measures.
In 2001 and 2002, 32 members of regional extremist group Jemaah Islamiyah were arrested with bomb-making instructions, photographs and videos of local targets including a subway station and naval base, the government says.
Security at key installations has increased in recent years. Armed security officers patrol the airport, and a video on how to prevent bombings on the train system plays repeatedly inside subway stations.
Students at the training camp came from schools across the city, and were brought together for practical exercises as well as lectures. At a subway station they learned how to get out of a train during an emergency.
On another day, Shahdele split them into groups which had three minutes to seal small mock-ups of an apartment room complete with an air conditioner and toilet cubicle.
Eight teens who crowded into one room helped each other to quickly hang plastic bags and seal tape around the windows. A simulated poisonous gas wafted by as they scrambled to finish, but the gas seemed to stay out.
"Good job. Good job," Shahdele said.