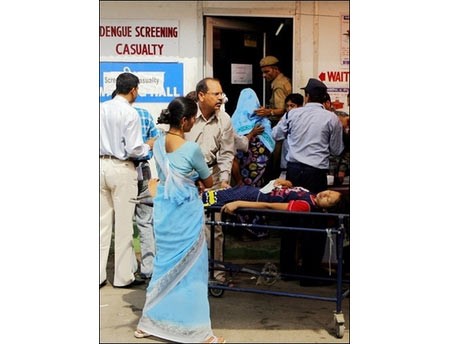 A suspected dengue patient is brought for treatment to a dengue screening ward at the All India Institute of Medical Sciences hospital in New Delhi
An outbreak of dengue virus has claimed 133 lives across India with nearly 10,000 people hit by the mosquito-borne illnesses, the health ministry has said.
"A total number of 8,088 cases and 133 deaths have been reported from India as a whole," a government statement said Friday.
Another 1,674 people were suffering from chikungunya disease which, like dengue, is transmitted to humans through bites of the Aedes mosquitoes during the rainy season.
Encephalitis, which is also transmitted by mosquitoes, has killed 262 children in northern Uttar Pradesh since the start of the monsoon season in June.
Dengue claimed more than 400 lives in Delhi in 1996 when 10,000 people caught the virus.