Indian Navy ships on patrol in the Strait of Malacca are participating in the search for the missing Malaysia Airlines plane, which lost radar contact on March 8 en route from Kuala Lumpur to Beijing with 239 people on board, including five Indians.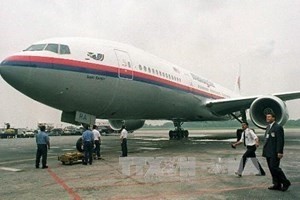 Malaysia Airline's ground staff park a Boeing 777-200 at Kuala Lumpur International airport after setting a world record for the longest non-stop flight from Seattle to Kuala Lumpur on April 2, 1997 (Source: AFP)
According to a local source, the ships, which usually carry out coordinated anti-piracy patrols with the navies of countries like Indonesia and Malaysia , will use helicopters to hunt for the lost plane.
The Indian Navy's satellite Rukmini has also been used to pick up any clue that may lead investigators to the missing Boeing 777-200 aircraft.
The Indian Defence Ministry said that the Indian Air Force (IAF) is ready to join search activities in the Malacca Strait near the country's Andaman and Nicobar Islands .
Meanwhile, Pakistan declared that it is willing to aid the search and rescue operation.
The search for flight MH370 has entered its seventh day on March 14, with the participation of a dozen countries, including Vietnam, Malaysia, China, Singapore and the US.