India successfully launched its first lunar mission Wednesday, marking a major boost for the country's space programme and a new step in the fast-developing Asian space race.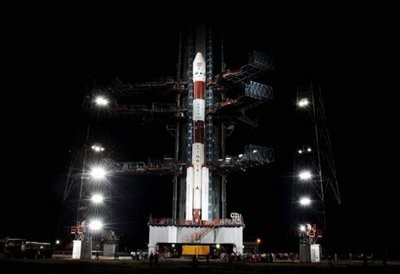 India's PSLV-C11 stands on the launch pad at the Satish Dhawan Space Centre in Sriharikota. India's first lunar mission blasted off from the national space centre on the southeastern coast early Wednesday.(AFP/ISRO/Ho)
Cheers rang out at mission control as the unmanned lunar orbiting spacecraft Chandrayaan-1 was launched with an Indian-built rocket from the Satish Dhawan Space Centre in Sriharikota on the southeastern coast.
Officials said the lift-off, which took place in cloudy skies at 6:22 am (0052 GMT), was a "great success", with the rocket placing the craft into a transfer orbit around the globe within 19 minutes.
"Our scientific community has once again done the country proud and the entire nation salutes them," Indian Prime Minister Manmohan Singh said in a message from Japan, where he was on an official visit.
The head of the Indian Space Research Organisation (ISRO), Madhavan Nair, said it was a "historic moment" for the country.
"It has been a remarkable performance by the launch vehicle," he said of the lift-off from the national space centre in the state of Andhra Pradesh, 80 kilometres (50 miles) north of Chennai.
ISRO is sending the Chandrayaan-1 on a two-year orbital mission to provide a detailed map of the mineral, chemical and topographical characteristics of the moon's surface. It is expected to reach lunar orbit in 15 days.
The mission, which will also include the sending of a probe onto the lunar surface, will cost India 80 million dollars.
"Today what we have charted is a remarkable journey for an Indian spacecraft to go to the moon and try to unravel the mysteries of the Earth's closest celestial body and its only natural satellite," Nair said.
India is hoping the mission will boost its space programme into the same league as regional powerhouses Japan and China, and Nair said ISRO was aiming at a manned space flight by 2015, with work on a two-person capsule already underway.
As well as looking to carve out a larger slice of the lucrative commercial satellite launch market, India, Japan and China also see their space programmes as an important symbol of their international stature and economic development.
The launch was carried live on most Indian television channels -- with one channel using the theme music for "Star Wars" to accompany the countdown.
Some critics, however, have questioned whether it makes sense to spend so much money on space when hundreds of millions of Indians still live in dire poverty.
India started its space programme in 1963, developing its own satellites and launch vehicles to reduce dependence on overseas agencies.
It first staked its case for a share of the commercial launch market by sending an Italian satellite into orbit in April last year. In January, it launched an Israeli spy satellite in the face of Iranian protests.
But it still has a long way to go to catch up with China which, together with the United States, Russia and the European Space Agency, is already well established in the commercial launch sector.
Chinese officials have spoken of a manned mission to the moon in the future, after following the United States and the former Soviet Union last month by carrying out a space walk, and wants to establish an orbiting space lab.
Japan has also been boosting its space programme and has set a goal of sending an astronaut to the moon by 2020.
Japan's first lunar probe, Kaguya, was successfully launched in September last year.
In addition to the commercial ramifications, the development of a space race in Asia has security implications, with the potential for developing military applications such as intelligence gathering and space-based weapons.
Earlier this year, Japan scrapped a decades-old ban on the military use of space, hoping to remove any legal obstacles to building more advanced spy satellites.
South Korea, a late starter in the space race, has launched three commercial satellites since 1995 and launched its first military communications satellite in 2006.