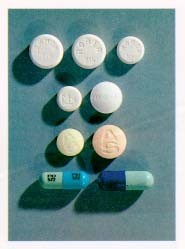 Methaqualone tablets and capsules
Police said anti-narcotics agents seized 4.4 tonnes of methaqualone, a barbituate sold in the US under the name Quaalude, from a storehouse in New Delhi and added the contraband was destined for the United States.
"The consignment was seized Sunday after we laid a trap and it is worth two billion rupees in the international market," Deputy Police Commissioner Anil Shukla said.
"Methaqualone is banned both in India and America and we have arrested one man and currently his links with international cartels are being investigated," Shukla said without disclosing the identity of the alleged American buyer.
The bust comes eight days after the city police arrested a Canadian of Indian origin with 100 kilograms (220 pounds) of ephedrine worth five million dollars.
Ephedrine, a stimulant, can be used as a base to make drugs such as ecstasy and amphetamines.
Deputy commissioner Shukla said stepped-up operations were on to bust cartels operating out of the Indian capital.
"Delhi has been a transit point for drugs coming from across the borders and has also become a manufacturing centre with links in South Africa and other countries," the officer told reporters.
Source: AFP