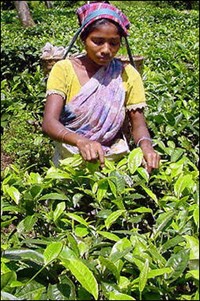 Tea is one of the products on which ASEAN asked India to cut import tariffs
India said Friday it had offered concessions to restart stalled trade talks with Southeast Asia, slashing tariffs on imports of sensitive agriculture products such as palm oil, tea and pepper.
However, Malaysia dismissed the move, saying the negotiations remained suspended over India's unwillingless to cut down a list of mostly agricultural products excluded from tariff reductions.
India said in a statement that it had offered to "substantially reduce import duty on the following highly sensitive products which are of significant export interest to certain ASEAN members."
Earlier, Indian trade officials met their counterparts from the 10-member Association of Southeast Asian Nations (ASEAN) ahead of a ministerial meeting here next week.
India said it will cut tariffs on refined palm oil to 60 percent from 90 percent, crude palm oil to 50 percent from 80 percent, black tea by half to 50 percent and pepper to 50 percent from 70 percent.
However, Malaysia's trade minister Rafidah Aziz said negotiations with India remain suspended because of its 854-product exclusion list.
The number has been reduced from the 1,414 India had originally proposed, but is still far higher than ASEAN's target of 400.
"The moment you have so many products up front regarded as sensitive, not to be negotiated especially when these products are of interest to ASEAN and at present these products constitute substantial trade with India, it (talks) cannot move," she said.
"It is a question of principle. What is the premise? The premise is market opening. So if up front you stop market opening for these products, meaning it is a standstill, it does not make sense to negotiate," she added.
"Malaysia as the coordinating country, does feel it is not necessary to negotiate if that is going to be the attitude."
The agreement between India and the 10-member ASEAN is scheduled to come into force on January 1, 2007, but negotiations have stalled over the list of mostly agricultural items to be exempted from tariff cuts.
Officials here have said that India has cited the fear of political fallout and its suicide epidemic among farmers as obstacles to hammering out a free-trade deal with Southeast Asia.
India, which adopted a free market economy in the early 1990s, is keen to expand trade ties with ASEAN, but wants to protect its own sensitive sectors, such as agriculture and textile which provide livelihoods to millions of Indians.
Source: AFP