India on March 16 put on hold the search for the missing Malaysia Airlines flight MH370 at the request of Malaysian government.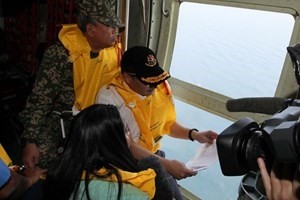 (Source: VNA)
Indian authorities have been combing the islands of Andaman and Nicobar, and the west of the Bay of Bengal , but so far no sighting has been reported, according to the country's defence ministry sources.
The search is suspended because Malaysia is re-assessing the situation about the missing plane and trying to prioritise the areas for renewed investigation.
The Thai navy has also halted its search over the Gulf of Thailand and Andaman Sea for the missing jet.
Navy spokesperson Karn Dee-ubon said on March 15 that the decision came after Malaysian Prime Minister Najib Razak's latest update on the same day regarding the plane.
According to Najib, the authorities have uncovered new data on the possible flight path of MH370 that points to two new corridors, including a northern corridor stretching approximately from the border of Kazakhstan and Turkmenistan to northern Thailand as well as a southern one stretching from Indonesia to the southern Indian Ocean.
The navy's search operation kicked off March 10, involving two patrol planes and a patrol vessel attached with a helicopter, but has found no trace of the flight as yet, according to Karn.
But four patrol vessels are still on stand-by and ready to carry on with the search mission once the Malaysian government makes new requests for assistance, Karn said.
In addition, the Thai air force reportedly said that its radar system failed to detect the flight after the new information suggested that it could have flown over northern Thailand .
Malaysian authorities have stopped their hunt for the lost jet in the East Sea and focused their search efforts in the Indian Ocean .
No traces of the lost Boeing 777-200 aircraft have been found after a week-long massive search involving a dozen countries, including Vietnam , Malaysia , Singapore and China .
Flight MH370, carrying 227 passengers and 12 crew members, went missing in the early hours of March 8 en route from Kuala Lumpur to Beijing.