NEW DELHI (AFP) – India on Monday announced a 17-percent increase in social spending in the annual budget, on projects ranging from malnutrition programmes to healthcare schemes.
The voter-friendly spending plans, which included widespread subsidies for farmers and the poor, fulfilled forecasts that the Congress government would look to counter public anger over corruption scandals and rising food prices.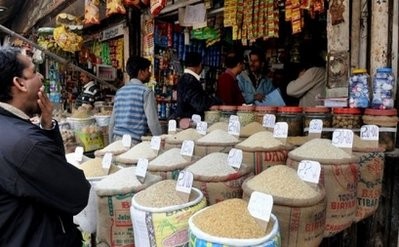 AFP - Indian customers purchase food items at a market in New Delhi.
"The country has carried for long enough the burden of hunger and malnutrition," Finance Minister Pranab Mukherjee said.
The allocation for the social sector would show an "increase of 17 percent over the current year," he told parliament.
The government plans to spend 267.6 billion rupees ($5.9 billion) on the health sector alone in the next fiscal year, a rise of 20 percent, while education spending would also rise, to 520 billion rupees.
Mukherjee said tackling inflation, currently at more than eight percent on an annual basis, remained the central focus of government economic policy but he forecast it to fall over the next year.
"It (inflation) clearly remains a concern," he said. "But I expect the policy taken by RBI (the central Reserve Bank of India) to further moderate inflation in coming months... average inflation to be lower next year."
The left-leaning government, which faces a slew of looming state elections, is mindful that spiralling living costs can be a potent trigger for discontent in India.
The rise in spending will be financed by higher tax revenues from India's booming economy, which will grow 8.6 percent this fiscal year and 9.0 percent next year, Mukherjee forecast.
Revenues of 400 billion rupees ($9 billion) from the part-privatisation of state-owned companies would also swell government coffers, he said.
"Our growth in 2010 has been swift and broadbased. The economy is back to its pre-crisis trajectory," he told parliament.
Mukherjee, 76, also announced a reform in how subsidies are paid to the poor, saying he would tackle misuse of handouts for fuel and fertilisers by setting up direct cash payments to poverty-hit families.
"To ensure greater cost efficiency and better delivery for both kerosene and fertiliser, the government will move toward direct transfer of cash subsidy for people below the poverty line in a phased manner," he said.
A national food security bill, which will provide a legal guarantee of subsidised food for low-income families, would also be introduced in the current parliamentary session, he announced.
The fiscal deficit this financial year would be 5.1 percent of gross domestic product, falling to a predicted 4.6 percent in the next year, Mukherjee said.
About 40 percent of the 1.2 billion population in Asia's third-largest economy live on less than $2 a day.
Stock markets responded positively to the announcements.
The main index on the Bombay Stock Exchange was up 2.23 percent at 18,095.56 in the afternoon.