Indian newspapers Sunday hailed an "historic" election victory for the Congress-led alliance, with some predicting a new era for national politics.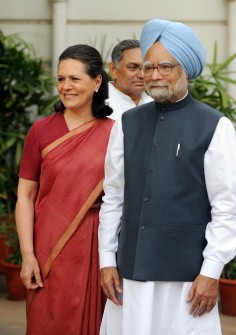 Congress Party President Sonia Gandhi (L) and Indian Prime Minister Manmohan Singh pose during a press conference at her residence in New Delhi on May 16, 2009. (AFP Photo)
"King Cong" read the banner front page headline in the Asian Age, while the Hindustan Times focused on the prospect of a second term for Prime Minister Manmohan Singh.
"Singh, still King," ran the headline in the Times, while a front page editorial argued that the "historic mandate" delivered by the electorate was a ringing endorsement of Singh's leadership.
"India's voters believe Singh's government is the right one to take India forward in these unsteady times. It's now up to the new, unfettered coalition government to show what it can do with our future."
With some results yet to be confirmed, the Congress-led alliance was projected to win a commanding 255 seats against 160 for the main opposition bloc headed by the Hindu nationalist Bharatiya Janata Party (BJP).
Although it still fell short of the 272 seats required for a majority in the 543-seat parliament, the margin of victory was much greater than exit polls had forecast.
The Economic Times praised voters for delivering a clear-cut verdict that would provide a stable government capable of operating without the restraining hands of outside partners.
"Finally, A Free Hand" ran the newspaper's headline, punning on the Congress party's symbol of an open palm.
"The people have spoken and spoken decisively: voting out confusion, voting in clarity, voting out schism, voting in development," the Economic Times said.
"2009 may just be the beginning of India's century -- a year when India dumps its old baggage and looks to the future with humility, unity and hope," it added.
The newspaper strikingly opted to feature a photo of the Congress party's star campaigner Rahul Gandhi on the front page, rather than his mother and party president Sonia Gandhi, or Singh.
Rahul, 38, is very much identified as the new face of Congress and widely seen as Singh's successor as premier -- maybe even within the lifetime of the new government.
"Ra Ra-Rahul" trumpeted the Mail Today, which credited Rahul with energising the party and voters alike.
An editorial in the Indian Express paper concluded that the "politics of aspiration has won over the politics of grievance."
"Such a ringing endorsement of incumbency also busts the myth that an angry voter throws out everybody," it added.